A logo & icon for DevAssistant
Submitted by Rianne Schestowitz on Wednesday 30th of July 2014 08:07:48 PM
Filed under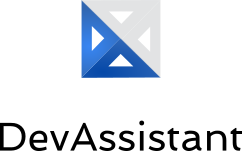 This is a simple story about a logo design process for an open source project in case it might be informative or entertaining to you.
A little over a month ago, Tomas Redej contacted me to request a logo for DevAssistant. DevAssistant is a UI aimed at making developers' lives easier by automating a lot of the menial tasks required to start up a software project – setting up the environment, starting services, installing dependencise, etc. His team was gearing up for a new release and really wanted a logo to help publicize the release. They came to me for help as colleagues familiar with some of the logo work I've done.
More in Tux Machines
From the Editors: You've come a long way, Linux

This month, as we do every March, we reported on the Who Writes Linux report from the Linux Foundation. Usually, this is a fairly rote affair: Red Hat and Intel contribute tons of code, Greg Kroah-Hartman does a ton of the work, and we learn about some small firm somewhere that's cranking out kernel code disproportionate to its size.

SteamOS A Linux Distribution For Gaming




SteamOS

is a Debian Linux kernel-based operating system in development by Valve Corporation designed to be the primary operating system for the Steam Machine game consoles. It was initially released on December 13, 2013, alongside the start of end-user beta testing of Steam Machines.

KDE Applications 14.12.3 Officially Released

KDE Applications 14.12 has been released by its makers, and it's a regular maintenance update. It comes with a ton of bug fixes and will be soon available in various repositories.

Understanding The Linux Kernel's BPF In-Kernel Virtual Machine

BPF continues marching forward as a universal, in-kernel virtual machine for the Linux kernel. The Berkeley Packet Filter was originally designed for network packet filtering but has since been extended as eBPF to support other non-network subsystems via the bpf syscall. Here's some more details on this in-kernel virtual machine. Alexei Starovoitov presented at last month's Linux Foundation Collaboration Summit in Santa Rosa about BPF as an in-kernel virtual machine. The slides have been published for those wishing to learn more about its state and capabilities.