A logo & icon for DevAssistant
Submitted by Rianne Schestowitz on Wednesday 30th of July 2014 08:07:48 PM
Filed under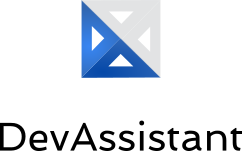 This is a simple story about a logo design process for an open source project in case it might be informative or entertaining to you.
A little over a month ago, Tomas Redej contacted me to request a logo for DevAssistant. DevAssistant is a UI aimed at making developers' lives easier by automating a lot of the menial tasks required to start up a software project – setting up the environment, starting services, installing dependencise, etc. His team was gearing up for a new release and really wanted a logo to help publicize the release. They came to me for help as colleagues familiar with some of the logo work I've done.
More in Tux Machines
today's howtos

Leftovers: Gaming

Linux Mint Debian Might Not Adopt Systemd

The Linux Mint team has ended 2014 in force with a great Linux Mint 17.1 "Rebecca" release, for both the MATE and Cinnamon desktop, but it looks like the Debian edition is also going to be interesting.

Latest SteamOS Update Brings New NVIDIA and AMD Drivers

SteamOS, a Linux distribution based on Debian and developed by Valve that aims to provide the best gaming experience, has been updated by its makers and a new Beta version has been released.