A logo & icon for DevAssistant
Submitted by Rianne Schestowitz on Wednesday 30th of July 2014 08:07:48 PM
Filed under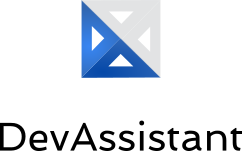 This is a simple story about a logo design process for an open source project in case it might be informative or entertaining to you.
A little over a month ago, Tomas Redej contacted me to request a logo for DevAssistant. DevAssistant is a UI aimed at making developers' lives easier by automating a lot of the menial tasks required to start up a software project – setting up the environment, starting services, installing dependencise, etc. His team was gearing up for a new release and really wanted a logo to help publicize the release. They came to me for help as colleagues familiar with some of the logo work I've done.
More in Tux Machines
NGINX moves towards web server dominance with European expansion

Web server NGINX powers more than 317 million sites around the globes, and has rapidly replaced Apache as the engine of choice for the world's 100,000 busiest, counting Netflix, Airbnb and Dropbox among its high-profile clients. NGINX Inc - the company set up to commercialise the open source technology - has now set its sights on developing its business in Europe and recently opened a new EMEA headquarters in Cork, Ireland as a launching point to the region. NGINX began life as a web server written by a Russian engineer called Igor Syosev in 2002 while he was working as a system administrator for the portal site Rambler.

Red Hat and Fedora

Containers have become the new hit of the tech industry, as big of a buzzword as cloud, IoT or big data and also increasing in adoption just as quickly.

GNU C Library 2.25 is set to be introduced in Fedora 26. The Fedora Engineering and Steering Committee has approved of glibc 2.25 to ship in Fedora 26.