Peppermint OS 5: Light, Refreshing Linux
Submitted by Rianne Schestowitz on Saturday 9th of August 2014 03:09:40 AM
Filed under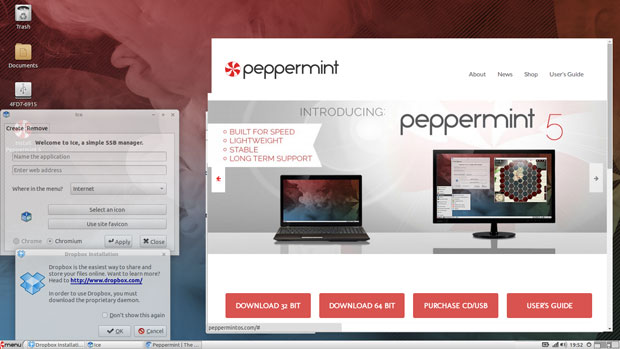 Using the Ice technology in the Peppermint OS is much like launching an app on an Android phone or tablet. For example, I can launch Google Docs, Gmail, Twitter, Yahoo Mail, YouTube, Pandora or Facebook as if they were self-contained apps on a mobile device -- but these pseudo apps never need updating. Ice easily creates a menu entry to launch any website or application as if it were installed.
More in Tux Machines
Kernel 3.18 development – the kernel column

Linus Torvalds announced Linux 3.17, the Shuffling Zombie Juror, saying, "The past week was fairly calm, and so I have no qualms about releasing 3.17 on the normal schedule". The latest kernel includes a number of nice headline features, such as the new getrandom() system call and sealed files APIs that we covered in previous issues of LU&D. Linux 3.17 also includes support for less highlighted new features, such as new signature checking of kexec()'d kernel images and sparse files on Samba file systems (which is significant for those mounting Windows and Mac shares).

Qt 5.4 Release Candidate Available

I am happy to announce that Qt 5.4 Release Candidate is now available. After the Qt5.4 Beta release we have done some build & packaging related updates in addition to large number of error fixes based on feedback from Beta release.

Weston's IVI Shell Sees New Version

There hasn't been much in the way of exciting Wayland/Weston developments to report on this month, but its development is continuing in its usual manner. Out today is another version of the Weston IVI Shell as it still works to being accepted upstream. The weston-ivi-shell is a reference shell for Wayland's Weston compositor running on In-Vehicle Infotainment (IVI) systems. The Weston-IVI work dates back many months and today's revision to the shell marks its eighth public version as it still seeks to be accepted into mainline Weston.

Python 3 Support Added To The GNOME Shell

The GNOME Shell 3.15.2 release fixes some visual glitching, improves the layout of the extension installation dialog, supports the CSS margin property, and offers other bug fixes and minor enhancements. Most notable to GNOME Shell 3.15.2 though is there's finally Python 3 support. Many GNOME components have long ported their Python 2 code to Python 3 while GNOME Shell's Python support has just received the Py3 treatment. Details on GNOME's overall Python 3 porting work can be found via this Wiki page.