Mozilla's Lightspeed Is an Imaginative Browser Experiment
Submitted by Rianne Schestowitz on Monday 11th of August 2014 03:31:16 PM
Filed under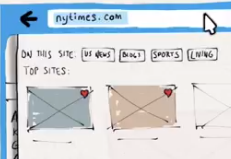 Mozilla has always done interesting conceptual work with the Firefox browser and its other projects, and only some of the concepts actually make it into production. In the spirit of experimenting, a couple of Mozilla developers are playing with concepts for what the future of browsing might be like.
Michael Verdi and Philipp Sackl have posted a presentation and other materials for Lightspeed, and it looks to be a very interesting concept.
More in Tux Machines
Today in Techrights

Fedora 26 Linux Might Ship with an LXQt Flavor, Won't Replace the LXDE Spin

There's a new self-contained change planned for the upcoming Fedora 26 Linux distribution, due for release on June 6, 2017, namely a new flavor built around the lightweight, Qt-based LXQt desktop environment.

Devil-Linux 1.8.0 to Be a Major Overhaul, Will Use SquashFS as Main File System

It's been seven months since we last heard something from the developers of the Devil-Linux project, which produces a tiny, dedicated server distribution for many applications, and a new development version of the upcoming 1.8 stable series is out.

CentOS vs Ubuntu: Which one is better for a server

Finally decided to get a VPS but can't decide which Linux distro to use? We've all been there. The choice may even be overwhelming, even for Linux distros, considering all the different flavors and distros that are out there. Though, the two most widely used and most popular server distros are CentOS and Ubuntu. This is the main dilemma among admins, both beginners and professionals. Having experience with both (and more) distros, we decided to do a comparison of CentOS and Ubuntu when used for a server.