Mozilla's Lightspeed Is an Imaginative Browser Experiment
Submitted by Rianne Schestowitz on Monday 11th of August 2014 03:31:16 PM
Filed under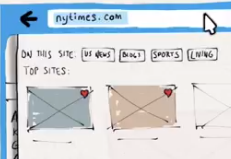 Mozilla has always done interesting conceptual work with the Firefox browser and its other projects, and only some of the concepts actually make it into production. In the spirit of experimenting, a couple of Mozilla developers are playing with concepts for what the future of browsing might be like.
Michael Verdi and Philipp Sackl have posted a presentation and other materials for Lightspeed, and it looks to be a very interesting concept.
More in Tux Machines
LibreOffice 4.4.4 Released

The Document Foundation today announced LibreOffice 4.4.4, the latest update to the 4.4 branch. Today's release brings 74 bug fixes including several crashes and import/export bugs. The announcement today also brought news of version 5.0 as well as reminders for the LibreOffice Conference in September.

Watch: Mark Shuttleworth Talks About Telco and NFV Technologies

The Movilforum website had the great pleasure of interviewing Mark Shuttleworth, CEO of Canonical and founder of the world's most popular free operating system, Ubuntu Linux.

Linux Kernel 4.0.7 Is a Small Release with Updated Drivers, ARM Improvements

On the last days of June, Greg Kroah-Hartman announced the availability of several maintenance releases for the Linux kernels 4.1, 4.0, 3.14, and 3.10. The seventh point release of Linux kernel 4.0 is a small one that brings mostly updated drivers.

An Everyday Linux User Review Of Debian Jessie

I have now been using Debian for a few weeks and it is therefore time for me to write a review of my experience thus far. Debian has been around for what seems like forever now and it is the base for so many other Linux distributions such as Ubuntu, Mint, SolydXK and Knoppix. I think that the general consensus amongst Linux users is that Debian is stable, dependable and a good environment on which to build upon. Does that mean it is suitable for Everyone?