Mozilla's Lightspeed Is an Imaginative Browser Experiment
Submitted by Rianne Schestowitz on Monday 11th of August 2014 03:31:16 PM
Filed under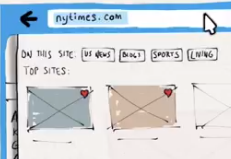 Mozilla has always done interesting conceptual work with the Firefox browser and its other projects, and only some of the concepts actually make it into production. In the spirit of experimenting, a couple of Mozilla developers are playing with concepts for what the future of browsing might be like.
Michael Verdi and Philipp Sackl have posted a presentation and other materials for Lightspeed, and it looks to be a very interesting concept.
More in Tux Machines
Open-Source Chat Platform Scrollback Raises $400,000 Seed Round

Scrollback, a free open-source chat platform for online communities, has raised $500,000 Singaporean dollars (about $400,000) led by Jungle Ventures, with participation from Singapore's National Research Foundation, Crystal Horse Investments, Singapore Angel Network, Roland Turner, and other angel investors.

An open source Christmas with Kano

So this season, what every open sourc-erer wants might just be Kano, a computer kit that comes will all the functions needed to build it and learn to code afterwards.

Particulate sensor developed using open source approach

A New York based start up company has used an open source approach, as well as funding from Kickstarter, to develop AirBeam – a handheld sensor which determines the concentration of particles in the air measuring 2.5µm or less. [...] The AirCasting app and website code is available on GitHub as open source, along with the AirBeam firmware and electronic schematics. The STL files for 3D printing the AirBeam and LiteBeam enclosures can be downloaded from www.shapeways.com.

Brocade relying on open source and 'natural tension' for growth

In line with this prediction, Brocade has been working towards changing its business tactics from being known as a hardware enterprise storage provider to also becoming an additional player in the software-defined network market — one in which rival Cisco has also been dipping its toes.