First preview for Slackware of Plasma 5
Submitted by Roy Schestowitz on Wednesday 13th of August 2014 08:07:05 PM
Filed under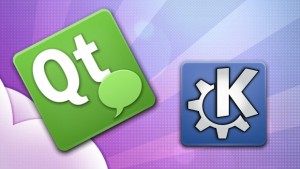 Today is my son's 16th birthday, and I do have a gift for all of you, not just for him. I present to you a first preview for Slackware, of the KDE Frameworks 5.1.0 libraries, combined with Plasma 5.0.1, the next-generation desktop workspace from KDE.
I wrote about this in my previous post, but now you can experience it first-hand: Plasma 5.0 improves support for high-DPI displays and comes with a "converged shell", i.e. one Plasma codebase for different target devices like desktop computers, laptops, tablet, phones etc. Plasma 5 uses a new fully hardware-accelerated OpenGL(ES) graphics stack. Plasma 5 is built using Qt 5 and Frameworks 5.
And with the Breeze themed artwork and its own Oxygen font, this desktop looks clean and modern.
More in Tux Machines
EXT4 Updates Are Pretty Boring For Linux 4.3

The EXT4 file-system updates have been sent in for the Linux 4.3 kernel. There isn't much to the EXT4 updates for Linux 4.3 besides clean-ups and fixes. Ted Ts'o wrote in the pull request, "Pretty much all bug fixes and clean ups for 4.3, after a lot of features and other churn going into 4.2."

Jonathan Riddell Mocks Canonical with His Own Intellectual Property Policy

In some more relaxing news, Jonathan Riddell, leader of the Kubuntu Linux distribution, has had the great pleasure of announcing his own IP (Intellectual Property) policy, mocking Canonical's. Original: Jonathan Riddell™ IP Policy

Debian-Based Robolinux Xfce 8.1 OS Lets You Run Windows 10 in Stealth VM

The development team behind the Robolinux project announced earlier today, September 3, the immediate availability for download of their brand new Robolinux Xfce 8.1 "Raptor" Linux distribution.

Leftovers: Graphics

Bryce Harrington announced the 1.9 beta releases of Wayland and Weston today.

The X.Org Foundation, through Keith Packard, announced the immediate availability for download of the first Release Candidate (RC) build towards the X.Org Server 1.18 open-source implementation of the X Window System.

NVIDIA has announced their GRID 2.0 platform while also unveiling their Tesla M6 and M60 server cards. GRID is NVIDIA's virtual GPU technology for "sharing true virtual GPU hardware acceleration between multiple users." Notable to GRID 2.0 is Linux support to complement Windows. GRID 2.0 also aims to have 2x greater density, 2x greater performance, support for 128 users per server, and now supports 4K displays.

NVIDIA has released the 355.11 Linux driver today, which is their first stable release in the 355.xx series.