Dangling the Linux Carrot
Submitted by Rianne Schestowitz on Wednesday 20th of August 2014 06:45:52 AM
Filed under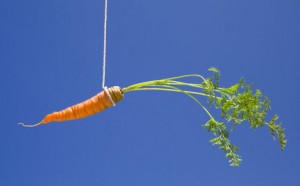 Sometimes the direct sell method isn't the best way to close the deal. How do you think the whole "play hard to get" thing got traction throughout the years? That method is successful in any number of applications. And really, I wasn't wearing my Linux Advocacy hat that evening…I was just a guy relaxing after a day's work.
More in Tux Machines
OPNFV Adds Chinese Telecom to Open Source NFV/SDN Partnership

The Linux Foundation's OPNFV project won a significant endorsement this week from China-based ZTE Corporation, which stands to increase the global reach of the open source network functions virtualization (NFV) and software-defined networking (SDN) initiative. Based in Shenzen, China, ZTE is a major manufacturer of telecom...

Elive 2.4.5 beta released

The Elive Team is proud to announce the release of the beta version 2.4.5

Red Hat Pushes Forward with CentOS [VIDEO]

At the beginning of 2014, Red Hat embraced the community CentOS Linux distribution. It's a move that brought the clone of Red Hat Enterprise Linux (RHEL) closer into the Red Hat organization. In a video interview, Paul Cormier, EVP and President at Red Hat, details how the CentOS relationship has worked out over the course of 2014.

FLOSS Works – Now It Has Salesmen

Canonical claimed 20 million PCs had shipped from OEMs in 2013/2014 with Ubuntu GNU/Linux.