AMD's Catalyst Linux Driver Preparing For A World Without An X Server?
Submitted by Rianne Schestowitz on Wednesday 20th of August 2014 05:21:36 PM
Filed under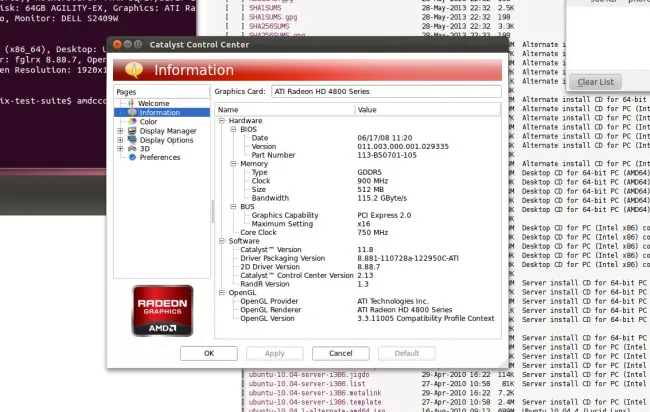 AMD's proprietary Catalyst Linux driver installer is interestingly being prepared for an environment without an X.Org Server.
While there's no announcement out of AMD indicating any future support directions for their Catalyst Linux driver, it seems their Catalyst driver will soon be equipped with an option for building the driver packages without X.Org Server support, a.k.a. no building of the fglrx DDX driver.
»
Printer-friendly version

742 reads

PDF version
More in Tux Machines
Fedora: Updated F27 Live ISOs, Synergy 2.0, Bodhi 3.2.0, Announcing Flapjack

The Fedora Respins SIG is pleased to announce the latest release of Updated 27 Live ISOs, carrying the 4.14.13-300 kernel.

I have packed the latest stable version, 2.0.0, for Fedora 27, 26 and EPEL 7. No EPEL 6 update this time as it requires CXX14, which EL6 does not provide.

Here's a post about a tool that I've developed at work. You might find it useful if you contribute to any desktop platform libraries that are packaged as a Flatpak runtime, such as GNOME or KDE. Flatpak is a system for delivering desktop applications that was pioneered by the GNOME community. At Endless, we have jumped aboard the Flatpak train. Our product Endless OS is a Linux distribution, but not a traditional one in the sense of being a collection of packages that you install with a package manager; it's an immmutable OS image, with atomic updates delivered through OSTree. Applications are sandboxed-only and Flatpak-only.

Security Leftovers

Latvia said its new e-health system was on Tuesday hit by a large-scale cyberattack that saw thousands of requests for medical prescriptions pour in per second from more than 20 countries in Africa, the Caribbean and the European Union. No data was compromised, according to health officials, who immediately took down the site, which was launched earlier this month to streamline the writing of prescriptions in the Baltic state. "It is clear that it was a planned attack, a widespread attack—we might say a specialised one—as it emanated from computers located in various different countries, both inside the European Union and outside Europe," state secretary Aivars Lapins told reporters. "We received thousands of requests in a very short space of time. That's not the normal way the system works," he said, adding that an investigation is under way.

The developer of the Ubuntu-based Linux Lite distribution has created a script that makes it easier for Linux users to check if their systems are vulnerable to the Meltdown and Spectre security flaws. As we reported last week, developer Stéphane Lesimple created an excellent script that would check if your Linux distribution's kernel is patched against the Meltdown and Spectre security vulnerabilities that have been publicly disclosed earlier this month and put billions of devices at risk of attacks.

Purism, the computer technology company behind the privacy-focused, Linux-based Librem laptops and the upcoming smartphone, released patches for the Meltdown and Spectre security vulnerabilities. The company was one of the first Linux OEMs and OS vendor to announce that it's working on addressing both the Meltdown and Spectre security exploits on his Linux laptops. Meltdown and Spectre have been unearthed in early January and they are two severe hardware bugs that put billions of devices at risk of attacks.

Facebook is hardly a small organization, with large teams of engineers and security professionals on staff. Yet even Facebook has found that it can profit from expertise outside of the company, which is why the social networking giant has continued to benefit from its bug bounty program. In 2017, Facebook paid out $880,000 to security researchers as part of its bug bounty program. The average reward payout in 2017 was $1,900, up from $1,675 in 2016.

Arch Linux vs. Antergos vs. Clear Linux vs. Ubuntu Benchmarks

Last week when sharing the results of tweaking Ubuntu 17.10 to try to make it run as fast as Clear Linux, it didn't take long for Phoronix readers to share their opinions on Arch Linux and the request for some optimized Arch Linux benchmarks against Clear Linux. Here are some results of that testing so far in carrying out a clean Arch Linux build with some basic optimizations compared to using Antergos Minimal out-of-the-box, Ubuntu Server, and Clear Linux. Tests this time around were done on the Intel Core i9 7980XE system with ASUS PRIME X299-A motherboard, 4 x 4GB DDR4-3200 Corsair memory, GeForce GTX 750, and Corsair Force MP500 120GB NVMe solid-state drive. The system with 18 cores / 36 threads does make for quick and easy compiling of many Linux packages.

Mozilla Leftovers