Meet Cornelius Schumacher - Akademy Keynote Speaker
Submitted by Rianne Schestowitz on Wednesday 27th of August 2014 05:27:04 PM
Filed under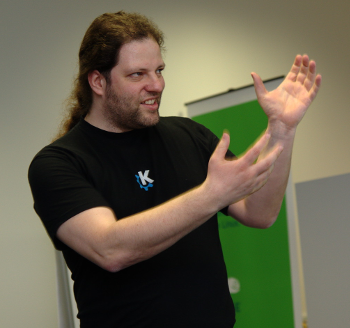 At Akademy 2014, outgoing KDE e.V. Board President Cornelius Schumacher will give the community keynote. He has attended every Akademy and has been amazed and inspired at every one of them. If you want more of what KDE can bring to your life, Cornelius's talk is the perfect elixir.
Here are glimpses of Cornelius that most of us have never seen. They give a sense of what has made him a successful leader of KDE for several years.
More in Tux Machines
Samsung to Launch Tizen based Smartphone in India in November 2014

It looks like a Tizen Smartphone launch in India is on the cards, and the launch date is November 2014 for our Linux based friend. Samsung believe that they can use content to differentiate themselves from the competition, enabling them to maintain their lead in the Indian Smartphone market. We are not expecting the launch of the Samsung Z at this point, but more likely the budget Tizen Samsung SM-Z130E or SM-Z130H.

NVIDIA 343.22 Linux Driver Brings Support for GTX 970 and GTX 980

NVIDIA has released a new Linux driver for its products and the developers have added support for the latest GPUs that were just announced.

Linus Torvalds and others on Linux's systemd

If you're not a Linux or Unix developer, you've never heard of systemd, the new Linux-specific system and service manager. In Linux developer circles, however, nothing else ticks off many programmers more than this replacement for the Unix and Linux's traditional sysvinit daemon...

Samsung launches the Industry's first 28-Megapixel APS-C CMOS Image Sensor – S5KVB2

Samsung, with the launch of the Tizen Samsung NX1 Smart Camera, has introduced a new 28 megapixel (MP) APS-C CMOS image sensor for digital cameras, which is said to offer superior light absorption thanks to the back-side illuminated (BSI) pixel technology and 65-nanometer (nm) low-power copper process.