Meet Cornelius Schumacher - Akademy Keynote Speaker
Submitted by Rianne Schestowitz on Wednesday 27th of August 2014 05:27:04 PM
Filed under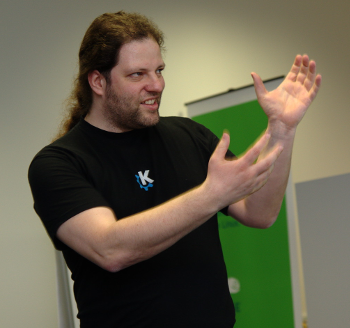 At Akademy 2014, outgoing KDE e.V. Board President Cornelius Schumacher will give the community keynote. He has attended every Akademy and has been amazed and inspired at every one of them. If you want more of what KDE can bring to your life, Cornelius's talk is the perfect elixir.
Here are glimpses of Cornelius that most of us have never seen. They give a sense of what has made him a successful leader of KDE for several years.
More in Tux Machines
New Kernel Releases

Tizen News

Samsung will be utilising Tizen as the underlying technology that will be developed...

The Samsung Gear 360 camera was originally launched at this years Mobile World Congress held in Barcelona, Spain. Now we see that the camera, that has the unique feature of being able to take 360 degree video, has gone on sale in the United States. This is a limited release for the camera before the actual nationwide / global release.