Meet Cornelius Schumacher - Akademy Keynote Speaker
Submitted by Rianne Schestowitz on Wednesday 27th of August 2014 05:27:04 PM
Filed under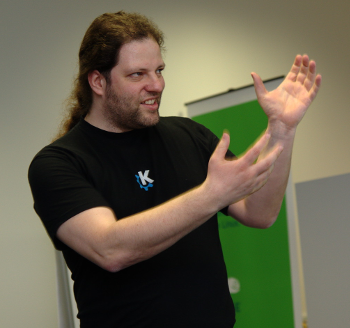 At Akademy 2014, outgoing KDE e.V. Board President Cornelius Schumacher will give the community keynote. He has attended every Akademy and has been amazed and inspired at every one of them. If you want more of what KDE can bring to your life, Cornelius's talk is the perfect elixir.
Here are glimpses of Cornelius that most of us have never seen. They give a sense of what has made him a successful leader of KDE for several years.
More in Tux Machines
Developing Linux Is Essential To Intel's Success

The dominant position of Intel in the server processor market is likely helped by the company's consistent strong support for Linux. Based on the W3Techs chart below, Linux is almost as popular as Windows-based servers are.

Firefox OS heading for Africa — and the U.S. too

Orange announced a $40 "Klif" Firefox OS phone for Africa, and Mozilla says it's working with Verizon Wireless and others on Firefox OS feature phones. There's still no evidence that Mozilla's HTML-focused Firefox OS has made much of a dent in the world smartphone market, where it has been focused on low-end devices sold primarily to emerging markets. Yet, Firefox OS still leads the way among upstart, Linux-based mobile operating systems, and will soon be available in more than 40 markets, this year, on a total of 17 smartphones, according to its latest stats. Meanwhile, the very first Tizen (Samsung Z1) and Ubuntu (BQ Aquaris E4.5) phones have only just shipped, and Jolla's Sailfish OS based Jolla phones are still mostly limited to Europe.

Why large companies use open source ERP

The main reason larger companies use open source Enterprise Resource Planning (ERP) systems is because they are cheaper and easier to customize.