Meet Cornelius Schumacher - Akademy Keynote Speaker
Submitted by Rianne Schestowitz on Wednesday 27th of August 2014 05:27:04 PM
Filed under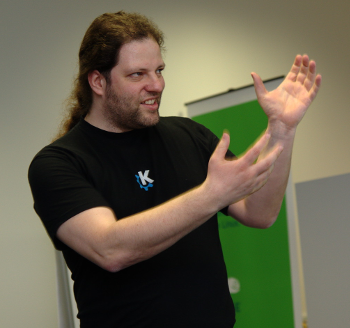 At Akademy 2014, outgoing KDE e.V. Board President Cornelius Schumacher will give the community keynote. He has attended every Akademy and has been amazed and inspired at every one of them. If you want more of what KDE can bring to your life, Cornelius's talk is the perfect elixir.
Here are glimpses of Cornelius that most of us have never seen. They give a sense of what has made him a successful leader of KDE for several years.
More in Tux Machines
Bodhi and Enlightenment

Bodhi Linux developer Jeff Hoogland was proud to announce recently the release and general availability of the first Alpha milestone towards the Bodhi 4.0.0 operating system. Bodhi 4.0.0 Alpha is right on schedule, according to Mr. Hoogland, and it marks the start of the development cycle of the upcoming GNU/Linux distribution built around the lightweight and modern Moksha desktop environment, a continuation of the Enlightenment 17 window manager.

A new stable version of the Enlightenment 0.20 lightweight and modern desktop environment/window manager has arrived, Enlightenment 0.20.10, which is the last one in the series. Yes, you're reading it right, the development cycle of the Enlightenment 0.20 series has come to an end, and if you're still using this version on your GNU/Linux operating system, you are urged to either upgrade to the Enlightenment 0.20.10 maintenance release or move to the newest stable branch, Enlightenment 0.21.0.

Linux Graphics

A new maintenance update of the X.Org Server 1.18 display server software for GNU/Linux operating systems, version 1.18.4, has arrived with over 60 improvements. As usual, Adam Jackson was the one to make the announcement, and it looks like X.Org Server 1.18.4 comes approximately three and a half months after the release of the previous maintenance version, X.Org Server 1.18.3, promising to add lots of backports from the devel branch, primarily in XWayland, Glamor, and Kernel Mode Setting (KMS). However, looking at the internal changelog, we can notice that X.Org Server 1.18.4 introduces improvements for several other drivers and components, including, but not limited to, XQuartz, RandR, x86emu, XFree86, KDrive, xf86Crtc, EXA, GLX, DIX/PTraccel, XKB, as well as Xi.

There's long been talk on killing FBDEV and getting rid of CONFIG_VT with a modern replacement making more use of DRM/KMS drivers, but so far none of those efforts have fully panned out.

Linux Foundation and Linux

Debian News

Hi, my name is Luciano Prestes, I am participating in the program Google Summer of Code (GSoC), my mentor is Antonio Terceiro, and my co-mentor is Tassia Camoes, both are Debian Developers. The project that I am contributing is the AppRecommender, which is a package recommender for Debian systems, my goal is to add a new strategy of recommendation to AppRecommender, to make it recommend packages after the user installs a new package with 'apt'. At principle AppRecommender has three recommendation strategies, being them, content-based, collaborative and hybrid. To my work on GSoC this text explains two of these strategies, content-based and collaborative. Content-based strategy get the user packages and analyzes yours descriptions to find another Debian packages that they are similar to the user packages, so AppRecommender uses the content of user packages to recommender similar packages to user. The collaborative strategy compare the user packages with the packages of another users, and then recommends packages that users with similar profile have, where a profile of user is your packages. On her work, Tassia Camoes uses the popularity-contest data to compare the users profiles on the collaborative strategy, the popularity-contest is an application that get the users packages into a submission and send to the popularity-contest server and generates statistical data analyzing the users packages.

Each release of Debian has a shiny new theme, which is visible on the boot screen, the login screen and, most prominently, on the desktop wallpaper. Debian plans to release Stretch next year. As ever, we need your help in creating its theme! You have the opportunity to design a theme that will inspire thousands of people while working in their Debian systems.

Today, July 29, 2016, Valve announced the availability for download of a new stable version of its Debian-based GNU/Linux operating system designed for gaming, SteamOS 2.87. After being in the Beta stages of the development for the past two months, SteamOS 2.87 is now the latest stable and most advanced version of the gaming OS developed by Valve for personal computers and Steam Machines. It comes as a replacement for the previous stable release, SteamOS 2.70, announced back in April 2016. Prominent new features of SteamOS 2.87 include the availability of updated Nvidia and AMD Radeon graphics drivers, version 367.27 and AMDGPU-PRO 16.30 respectively, which now offer support for the recently announced Nvidia GTX 1080 and GTX 1070 GPUs, as well as for the "Bonaire" GPUs.