Meet Cornelius Schumacher - Akademy Keynote Speaker
Submitted by Rianne Schestowitz on Wednesday 27th of August 2014 05:27:04 PM
Filed under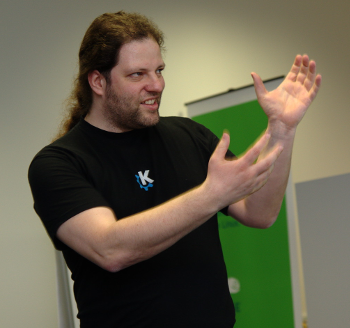 At Akademy 2014, outgoing KDE e.V. Board President Cornelius Schumacher will give the community keynote. He has attended every Akademy and has been amazed and inspired at every one of them. If you want more of what KDE can bring to your life, Cornelius's talk is the perfect elixir.
Here are glimpses of Cornelius that most of us have never seen. They give a sense of what has made him a successful leader of KDE for several years.
More in Tux Machines
Android Leftovers

Ubuntu vs. Fedora Linux On Lenovo's X1 Carbon With Core i7 Broadwell

The latest distribution I tried on the X1 Carbon (and the OS I'll ultimately use for running the X1 Carbon in a production capacity as my main system) is Fedora 21. Fedora 21 booted up on the X1 Carbon wonderfully without any issues aside from the trackpoint button clicks being wonky (though the button clicks in the corner of the trackpad works fine). Fedora 21 with Wayland also ran fine on this system with Intel HD Graphics 5500. Overall, it was a pleasant experience without any major problems.

Plex Media Server Review – The Ultimate Steaming Server

Plex Media Server is a media center application that allows users to stream video and audio content to local and remote clients, such as mobile devices or smart TVs. We now take a closer look at this powerful server and client and see what's the fuss all about.