Meet Cornelius Schumacher - Akademy Keynote Speaker
Submitted by Rianne Schestowitz on Wednesday 27th of August 2014 05:27:04 PM
Filed under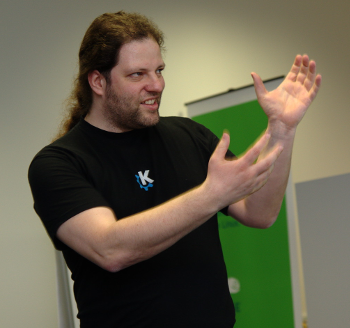 At Akademy 2014, outgoing KDE e.V. Board President Cornelius Schumacher will give the community keynote. He has attended every Akademy and has been amazed and inspired at every one of them. If you want more of what KDE can bring to your life, Cornelius's talk is the perfect elixir.
Here are glimpses of Cornelius that most of us have never seen. They give a sense of what has made him a successful leader of KDE for several years.
More in Tux Machines
Compact IoT gateway runs Yocto Linux on Quark

Advantech is prepping an Intel Quark based IoT gateway that runs Yocto Linux and offers PoE support. mini-PCIe expansion, and web-based device management.

Review: Linux Mint 17.2 Release is Refreshed and Faster

Linux Mint 17.2 "Rafaela" MATE was launched last week and, as usual, I installed it on my machines to see how this distro is progressing. I found a refreshed, faster and more feature-rich distro that's well worth trying.

Samsung to train India's Telangana youth in Tizen Tech

As part of the spread of Tizen education in India, Samsung will train the youth of the Telangana Academy on innovative digital technologies based on the Tizen operating system.

Jolla cuts hardware biz loose to concentrate on Sailfish licensing

Hardware and software outfit Jolla is to give up making hardware, with that part of the business set to be taken on by a new, yet-to-be-announced company, with Jolla then concentrating on its Sailfish OS.