A New AMD Catalyst Linux Driver Unofficially Surfaces
Submitted by Rianne Schestowitz on Saturday 30th of August 2014 08:00:28 AM
Filed under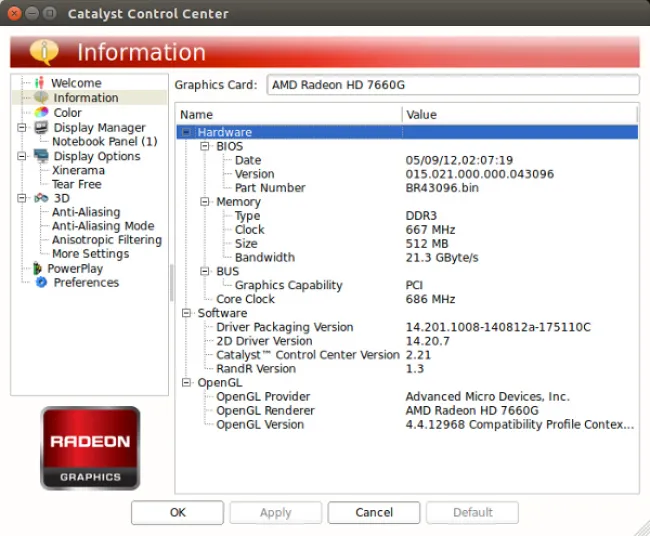 A German web-site is hosting a yet to be officially released Catalyst Linux driver.
As pointed out in our forums there is a new Catalyst Linux driver version that's being hosted by Computerbase.de. This driver is marked Catalyst 14.201.1008 and was uploaded today for Linux along with Windows.
While this driver should work for any supported hardware (Radeon HD 5000 series and newer), it's labeled amd-catalyst-desktop-apu-linux-x86-x86-64-14.201.1008.zip. The driver version number is higher than the previous publicly released Catalyst Linux build available from AMD's web-site.
»
Printer-friendly version

3394 reads

PDF version
More in Tux Machines
OSS Leftovers

The Communications Security Establishment (CSE) said the AssemblyLine tool is designed to analyse large volumes of files, and can automatically rebalance workloads.

Cloud application marketplace company Wireline is working with open source blockchain project developer Qtum The new union is intended to provide a conduit to consuming microservices at [web] scale using blockchain at the core. As we know, microservices offer the ability to create Application Programming Interfaces (APIs) without having to manage the underlying hardware and software infrastructure. [...] The Qtum a blockchain application platform combines the functions of Bitcoin Core, an account abstraction layer allowing for multiple virtual machines and a proof-of-stake consensus protocol aimed at tackling industry-use cases. The Qtum Foundation, headquartered in Singapore, is the decision-making body that drives the project's development.

At the Web Engines Hackfest in A Coruña at the beginning of October 2017, I was working on adding some proof-of-concept code to Servo to render HTML5 videos with GStreamer. For the impatient, the results can be seen in this video here

A few days back I wrote about Intel's work on Control-flow Enforcement Technology beginning to land in GCC. This "CET" work for future Intel CPUs has now landed in full for GCC 8. The bits wiring up this control-flow instrumentation and enforcement support are now all present in mainline GCC SVN/Git for next year's GCC 8.1 release.

After having moved from FSFE's wordpress instance I thought long about whether I still want to have comments on the new blog. And how I would be able to do it with a statically generated site. I think I have found/created a pretty good solution that I document below.

Security Leftovers

The article explores how cryptography, especially hashing and code signing, can be use to establish the source and integrity. It examines how source code control systems and automated build systems are a key part of the software provenance story. (Provenance means "a record of ownership of a work of art or an antique, used as a guide to authenticity or quality." It is increasingly being applied to software.)

A judge in Milwaukee has modified the pre-trial release conditions of Marcus Hutchins, also known online as "MalwareTech," who was indicted two months ago on federal criminal charges. Under US Magistrate Judge William Duffin's Thursday order, Hutchins, who is currently living in Los Angeles, will no longer be subject to a curfew or to GPS monitoring.

A teenager attempted to hack senior US government officials' computers from his home. Kane Gamble, 18, from Coalville, Leicestershire, pleaded guilty to 10 charges relating to computer hacking. His targets included the then CIA director John Brennan and former FBI deputy director Mark Giuliano.

Debian: pk4, Freexian and More

UNIX distributions used to come with the system source code in /usr/src. This is a concept which fascinates me: if you want to change something in any part of your system, just make your change in the corresponding directory, recomile, reinstall, and you can immediately see your changes in action.

Like each month, here comes a report about the work of paid contributors to Debian LTS.

Wishing all Debian people a prosperous and auspicious Gujarati new year (V.S. 2074 called Saumya.)

Kernel and Graphics: ZenStates, AMDGPU, RADV, Vulkan, NVIDIA