MSI Motherboard BIOS Updating Remains A Pain For Linux Users
Submitted by Rianne Schestowitz on Sunday 31st of August 2014 05:28:40 PM
Filed under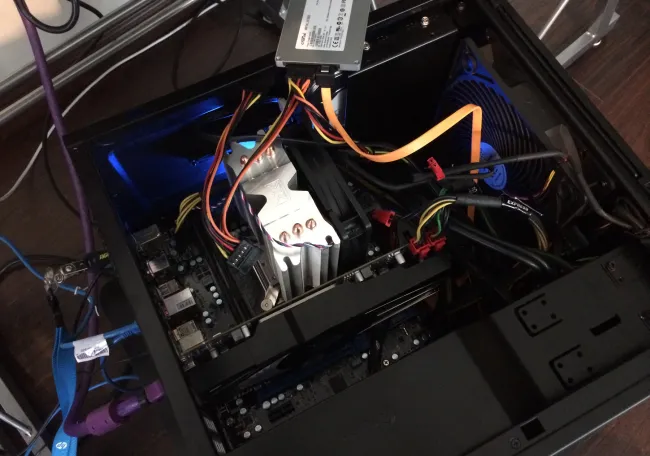 In recent years with more motherboard vendors enabling the updating of the BIOS/UEFI from within the setup utility itself and support loading the BIOS file off a USB thumb drive or other storage, it's generally easier for Linux users and all around a smoother process than the days of having to make a MS-DOS start-up floppy disk or similar. For most of these BIOS updates, Windows is generally not required as you can just head on over to the vendor's web-site, download a zipped up copy of the BIOS, transfer it to a USB drive, and reboot into the UEFI setup utility and flash away.
Some vendors will package their BIOS file inside an EXE that has to be executed that will then extract the file right away, but fortunately there's many programs capable of straightaway extracting the files from the EXE or the worst case scenario is generally just running the EXE under Wine. As a Linux user, with MSI motherboards their BIOS packaging takes it to an additional level of annoying and for some Linux users could be show-stopping.
More in Tux Machines
LibreOffice Office Suite Celebrates 6 Years of Activity with LibreOffice 5.2.2

Today, September 29, 2016, Italo Vignoli from The Document Foundation informs Softpedia via an email announcement about the general availability of the first point release of the LibreOffice 5.2 open-source and cross-platform office suite. On September 28, the LibreOffice project celebrated its 6th anniversary, and what better way to celebrate than to push a new update of the popular open source and cross-platform office suite used by millions of computer users worldwide. Therefore, we would like to inform our readers about the general availability of LibreOffice 5.2.2, which comes just three weeks after the release of LibreOffice 5.2.1. "Just one day after the project 6th anniversary, The Document Foundation (TDF) announces the availability of LibreOffice 5.2.2, the second minor release of the LibreOffice 5.2 family," says Italo Vignoli. "LibreOffice 5.2.2, targeted at technology enthusiasts, early adopters and power users, provides a number of fixes over the major release announced in August."

OSS Leftovers

Security News

The notion of using robust, random passwords has become all but mainstream—by now anyone with an inkling of security sense knows that "password1" and "1234567" aren't doing them any favors. But even as password security improves, there's something even more problematic that underlies them: security questions. Last week Yahoo revealed that it had been massively hacked, with at least 500 million of its users' data compromised by state sponsored intruders. And included in the company's list of breached data weren't just the usual hashed passwords and email addresses, but the security questions and answers that victims had chosen as a backup means of resetting their passwords—supposedly secret information like your favorite place to vacation or the street you grew up on. Yahoo's data debacle highlights how those innocuous-seeming questions remain a weak link in our online authentication systems. Ask the security community about security questions, and they'll tell you that they should be abolished—and that until they are, you should never answer them honestly. From their dangerous guessability to the difficulty of changing them after a major breach like Yahoo's, security questions have proven to be deeply inadequate as contingency mechanisms for passwords. They're meant to be a reliable last-ditch recovery feature: Even if you forget a complicated password, the thinking goes, you won't forget your mother's maiden name or the city you were born in. But by relying on factual data that was never meant to be kept secret in the first place—web and social media searches can often reveal where someone grew up or what the make of their first car was—the approach puts accounts at risk. And since your first pet's name never changes, your answers to security questions can be instantly compromised across many digital services if they are revealed through digital snooping or a data breach.

Just a quick note that LibreSSL is not impacted by either of the issues mentioned in the latest OpenSSL security advisory - both of the issues exist in code that was added to OpenSSL in the last release, which is not present in LibreSSL.

Last week, security news site KrebsOnSecurity went dark for more than 24 hours following what was believed to be a record 620 gigabit-per-second denial of service attack brought on by an ensemble of routers, security cameras, or other so-called Internet of Things devices. Now, there's word of a similar attack on a French Web host that peaked at a staggering 1.1 terabits per second, more than 60 percent bigger. The attacks were first reported on September 19 by Octave Klaba, the founder and CTO of OVH. The first one reached 1.1 Tbps while a follow-on was 901 Gbps. Then, last Friday, he reported more attacks that were in the same almost incomprehensible range. He said the distributed denial-of-service (DDoS) attacks were delivered through a collection of hacked Internet-connected cameras and digital video recorders. With each one having the ability to bombard targets with 1 Mbps to 30 Mbps, he estimated the botnet had a capacity of 1.5 Tbps. On Monday, Klaba reported that more than 6,800 new cameras had joined the botnet and said further that over the previous 48 hours the hosting service was subjected to dozens of attacks, some ranging from 100 Gbps to 800 Gbps. On Wednesday, he said more than 15,000 new devices had participated in attacks over the past 48 hours.

Android Leftovers

Microsoft Exchange mobile users on Android and iOS users have been unable to access emails on their phones due to a planned shift away from its Exchange Active Sync (EAS) protocol. The issue first appeared yesterday and is still affecting users. One customer got in touch to say: "Exchange Mobile device access seems to be up the Swanny for iOS and Android users." They quipped: "Fortunately neither of the Windows Mobile users are affected."

The Fitbit Blaze is a deceptive little fitness tracker. It may look like a smartwatch on the surface, but dive a little deeper and you'll find it's actually missing most of the smartwatch-y features we've come to expect from fitness tracker/smartwatch hybrids. When we reviewed the Blaze a few months ago, the lack of third-party notification support and poor selection of watch faces were some of our biggest gripes with this tracker. Thankfully Fitbit has finally heard our cries and released a new update that fixes these issues.

One of Android Wear's biggest strengths is it that the platform is designed to be cross compatible with Android and iOS. However, a number of consumers are reporting that they can't connected a range of Android Wear smartwatches up to the new iPhone 7 or iPhone 7 Plus.