MSI Motherboard BIOS Updating Remains A Pain For Linux Users
Submitted by Rianne Schestowitz on Sunday 31st of August 2014 05:28:40 PM
Filed under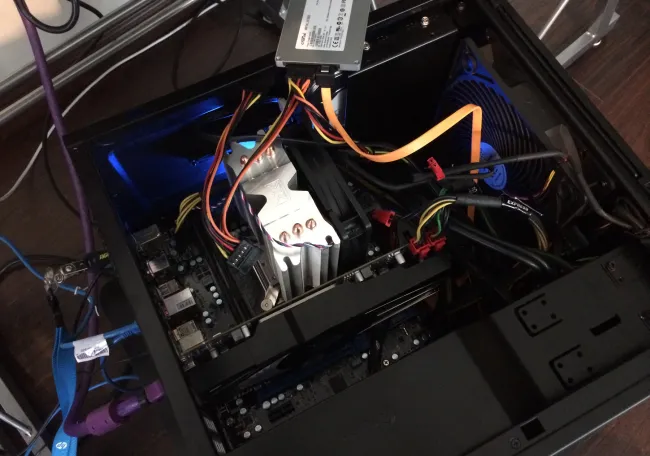 In recent years with more motherboard vendors enabling the updating of the BIOS/UEFI from within the setup utility itself and support loading the BIOS file off a USB thumb drive or other storage, it's generally easier for Linux users and all around a smoother process than the days of having to make a MS-DOS start-up floppy disk or similar. For most of these BIOS updates, Windows is generally not required as you can just head on over to the vendor's web-site, download a zipped up copy of the BIOS, transfer it to a USB drive, and reboot into the UEFI setup utility and flash away.
Some vendors will package their BIOS file inside an EXE that has to be executed that will then extract the file right away, but fortunately there's many programs capable of straightaway extracting the files from the EXE or the worst case scenario is generally just running the EXE under Wine. As a Linux user, with MSI motherboards their BIOS packaging takes it to an additional level of annoying and for some Linux users could be show-stopping.
More in Tux Machines
today's leftovers

FOSS in the European Union

The DRS are published as open source software using the European Union's open source software licence EUPL, and are available on Joinup. The software provides connectors for most commonly-used document management systems, and includes scripts to create a database to implement the connecting web services.

With the beginning of the new year, an international project "Open crowdsourcing data related to the quality of service of high-speed Internet" was launched, which aims to encourage the development of open data in the user's measurement of high-speed Internet.

Arch Linux News

Arch Linux is a powerful rolling Linux distribution, that hasn't always been particularly easy for new users to install and deploy. The goal of the Arch Anywhere system is to provide new and old users with the ability to install a fully custom Arch Linux system in minutes.

Arch Linux is moving ahead with preparing to deprecate i686 (x86 32-bit) support in their distribution. Due to declining usage of Arch Linux i686, they will be phasing out official support for the architecture. Next month's ISO spin will be the last for offering a 32-bit Arch Linux install. Following that will be a nine month deprecation period where i686 packages will still see updates.

Finally found some time to write a draft for news post on i686. Here it is: Title: i686 is dead, long live i686 Due to the decreasing popularity of i686 among the developers and the community, we have decided to phase out the support of this architecture. The decision means that February ISO will be the last that allows to install 32 bit Arch Linux. The next 9 months are deprecation period, during which i686 will be still receiving upgraded packages. Starting from November 2017, packaging and repository tools will no longer require that from maintainers, effectively making i686 unsupported. However, as there is still some interest in keeping i686 alive, we would like to encourage the community to make it happen with our guidance. Depending on the demand, an official channel and mailing list will be created for second tier architectures.

LinuxCon Europe on 100G Networking

Capacity and speed requirements keep increasing for networking, but going from where are now to 100G networking isn't a trivial matter, as Christopher Lameter and Fernando Garcia discussed recently in their LinuxCon Europe talk about the world of 100G networking. It may not be easy, but with recently developed machine learning algorithms combined with new, more powerful servers, the idea of 100G networking is becoming feasible and cost effective.

The idea of 100G networking is becoming feasible and cost effective. This talk gives an overview about the competing technologies in terms of technological differences and capabilities and then discusses the challenges of using various kernel interfaces to communicate at these high speeds.