MSI Motherboard BIOS Updating Remains A Pain For Linux Users
Submitted by Rianne Schestowitz on Sunday 31st of August 2014 05:28:40 PM
Filed under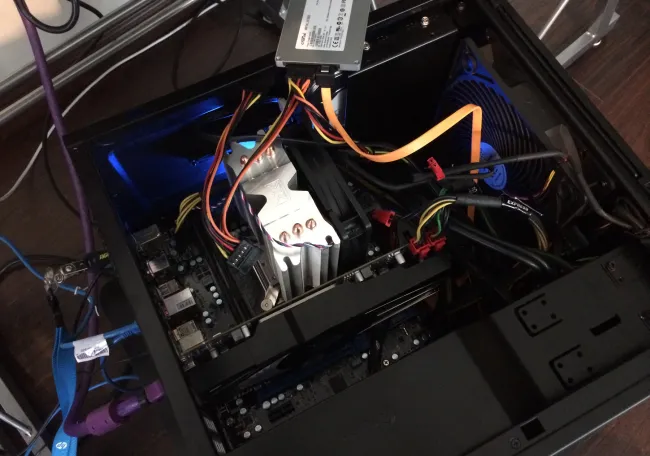 In recent years with more motherboard vendors enabling the updating of the BIOS/UEFI from within the setup utility itself and support loading the BIOS file off a USB thumb drive or other storage, it's generally easier for Linux users and all around a smoother process than the days of having to make a MS-DOS start-up floppy disk or similar. For most of these BIOS updates, Windows is generally not required as you can just head on over to the vendor's web-site, download a zipped up copy of the BIOS, transfer it to a USB drive, and reboot into the UEFI setup utility and flash away.
Some vendors will package their BIOS file inside an EXE that has to be executed that will then extract the file right away, but fortunately there's many programs capable of straightaway extracting the files from the EXE or the worst case scenario is generally just running the EXE under Wine. As a Linux user, with MSI motherboards their BIOS packaging takes it to an additional level of annoying and for some Linux users could be show-stopping.
»
Printer-friendly version

2078 reads

PDF version
More in Tux Machines
today's leftovers

Logstash 6.2.0 Released, Alfresco Grabbed by Private Equity Firm

The "L" in the ELK stack gets updated with new features including advanced security capabilities. Many modern enterprises have adopted the ELK (Elasticsearch, Logstash, Kibana) stack to collect, process, search and visualize data. At the core of the ELK stack is the open-source Logstash project which defines itself as a server-side data processing pipeline - basically it helps to collect logs and then send them to a users' "stash" for searching, which in many cases is Elasticsearch.

Enterprise apps company taken private in a deal that won't see a change in corporate direction. Alfresco has been developing its suite of Enterprise Content Management (ECM) and Business Process Management (BPM) technology since the company was founded back in June of 2005. On Feb. 8, Alfresco announced that it was being acquired by private equity firm Thomas H. Lee Partners (THL). Financial terms of the deal are not being publicly disclosed.

Servers and GPUs: Theano, DevOps, Kubernetes, AWS

Chrome and Firefox

Today Google launched a new version of its Chrome browser with what they call an "ad filter"—which means that it sometimes blocks ads but is not an "ad blocker." EFF welcomes the elimination of the worst ad formats. But Google's approach here is a band-aid response to the crisis of trust in advertising that leaves massive user privacy issues unaddressed. Last year, a new industry organization, the Coalition for Better Ads, published user research investigating ad formats responsible for "bad ad experiences." The Coalition examined 55 ad formats, of which 12 were deemed unacceptable. These included various full page takeovers (prestitial, postitial, rollover), autoplay videos with sound, pop-ups of all types, and ad density of more than 35% on mobile. Google is supposed to check sites for the forbidden formats and give offenders 30 days to reform or have all their ads blocked in Chrome. Censured sites can purge the offending ads and request reexamination. [...] Some commentators have interpreted ad blocking as the "biggest boycott in history" against the abusive and intrusive nature of online advertising. Now the Coalition aims to slow the adoption of blockers by enacting minimal reforms. Pagefair, an adtech company that monitors adblocker use, estimates 600 million active users of blockers. Some see no ads at all, but most users of the two largest blockers, AdBlock and Adblock Plus, see ads "whitelisted" under the Acceptable Ads program. These companies leverage their position as gatekeepers to the user's eyeballs, obliging Google to buy back access to the "blocked" part of their user base through payments under Acceptable Ads. This is expensive (a German newspaper claims a figure as high as 25 million euros) and is viewed with disapproval by many advertisers and publishers.

Over the next six months, Mozilla is planning to switch code review tools from mozreview/splinter to phabricator. Phabricator has more modern built-in tools like Herald that would have made setting up this shared queue a little easier, and that's why I paused…briefly

Firefox Screenshots is the first Test Pilot experiment to graduate into Firefox, and it's been surprisingly successful. You won't see many people talking about it: it does what you expect, and it doesn't cover new ground. Mozilla should do more of this.