MSI Motherboard BIOS Updating Remains A Pain For Linux Users
Submitted by Rianne Schestowitz on Sunday 31st of August 2014 05:28:40 PM
Filed under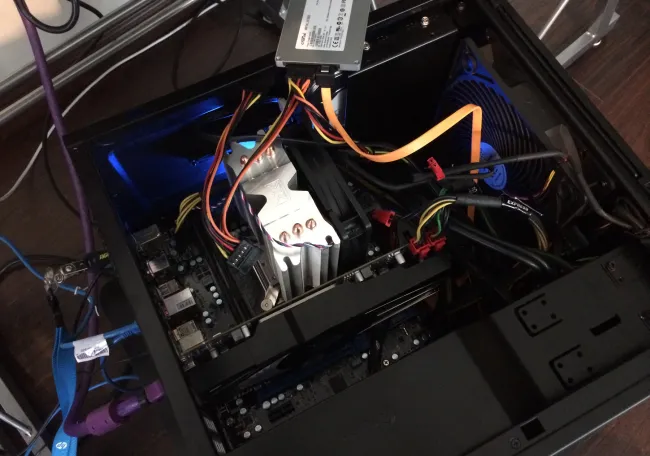 In recent years with more motherboard vendors enabling the updating of the BIOS/UEFI from within the setup utility itself and support loading the BIOS file off a USB thumb drive or other storage, it's generally easier for Linux users and all around a smoother process than the days of having to make a MS-DOS start-up floppy disk or similar. For most of these BIOS updates, Windows is generally not required as you can just head on over to the vendor's web-site, download a zipped up copy of the BIOS, transfer it to a USB drive, and reboot into the UEFI setup utility and flash away.
Some vendors will package their BIOS file inside an EXE that has to be executed that will then extract the file right away, but fortunately there's many programs capable of straightaway extracting the files from the EXE or the worst case scenario is generally just running the EXE under Wine. As a Linux user, with MSI motherboards their BIOS packaging takes it to an additional level of annoying and for some Linux users could be show-stopping.
More in Tux Machines
Distro Development: Rescatux and Bodhi

Many code in the grub side and in the windows registry side has been rewritten so that these new features could be rewritten. As a consequence it will be easier to maintain Rescapp. Finally the chntpw based options which modify the Windows registry now perform a backup of the Windows registry files in the unlikely case you want to undo some of the changes that Rescapp performs. I guess that in the future there will be a feature to be able to restore such backups from Rescapp itself, but, let's focus on releasing an stable release. It's been a while since the last one. UEFI feedback is still welcome. Specially if the Debian installation disks work for you but not the Rescatux ones.

Late last month I posted a first alpha look at Bodhi 4.0.0. Work since then has been coming along slowly due to a few unpredictable issues and my own work schedule outside of Bodhi being hectic over the summer. Bodhi 4.0.0 will be happening, but likely not with a stable release until September. I am traveling again this weekend, but am hoping to get out a full alpha release with 32bit and non-PAE discs next week.

Devices and Android

The open, upgradeable ARM development board that traces back to the failed KDE Vivaldi project managed to pass its funding goal just in time. This open-source hardware project currently powered by some older Allwinner hardware managed to raise more than $170k. It looked unlikely up until the very end that they would pass the $150,000 USD goal for this EOMA69 project that makes it easy to upgrade ARM boards (assuming newer and compatible ARM boards/cards do indeed get rolled out) and even an interchangeable laptop. However, on the final days they managed to beat their goal and raise a total of $171,000 from 2,306 individuals. Less than one month ago they were just at $50k.

Back when dinosaurs ruled the Earth and I was a kid, I received the gift of a "100-in-1 Electronics Kit" that taught me the basics of electrical circuit design as I strung pre-cut wires between springy posts. At the very centre of this kit - its beating heart - a single transistor could be wired to work in an amplifier, or AM radio, or tone generator. All of these projects, detailed in the accompanying instructional guide, really only served to whet my appetite. I quickly ditched that book because I'd learned enough to be dangerous and try wiring my own circuits.

Leftovers: BSD/LLVM

For those interested in C/C++ compiler performance, for some fun numbers to dive into this weekend are LLVM Clang vs. GCC benchmarks atop FreeBSD 11.0 RC1 AMD64 on an Intel Xeon Haswell system.

Emma A LightWeight Database Management Tool For Linux

Today who does not interact with databases and if you're a programmer then the database management is your daily task. For database management, there is a very popular tool called, MySQL Workbench. It's a tool that ships with tonnes of functionalities. But not all of us as beginner programmers use all Workbench features. So here we also have a very lightweight database manager in Linux, Emma.