Kali NetHunter turns Android device into hacker Swiss Army knife
Submitted by Rianne Schestowitz on Tuesday 23rd of September 2014 07:06:30 PM
Filed under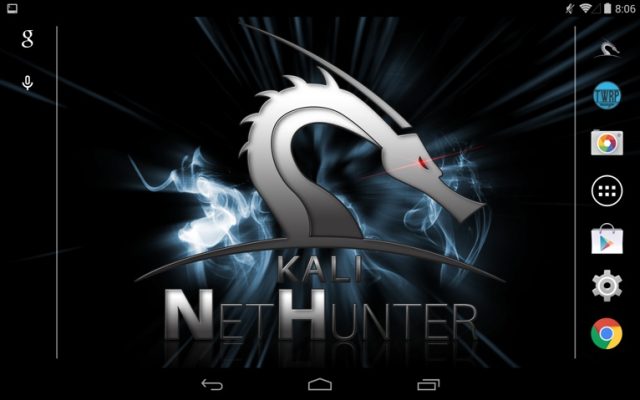 One of the tools we've leaned on heavily in some of our lab testing of software privacy and security is Kali Linux. The Debian-based operating system comes packaged with a collection of penetration testing and network monitoring tools curated and developed by the security training company Offensive Security. Today, the Kali developer team and Offensive Security released a new Kali project that runs on a Google Nexus device. Called NetHunter, the distribution provides much of the power of Kali with the addition of a browser-driven set of tools that can be used to launch attacks on wireless networks or on unattended computers via a USB connection.
»
Printer-friendly version

43643 reads

PDF version
More in Tux Machines
Today in Techrights

today's leftovers

Thanks to efforts from several contributors I was able to push a substantive release of Policy a little over a week ago.

Old Zhuilu Road has quite a story behind it. It was built in the 1910s under the Japanese occupation of the Taiwan island. Most of the trail already existed, but the Japanese forced the natives to make it at least a meter large everywhere (it used to be only 10cm wide) using dynamite.

This week i used to look into the existing Debian SSO solution that works with certificates. The idea is not to change it, but to integrate it with the chosen OAuth2/SAML solution. To test this, i've pulled the code and set up my own instance of it. Fortunatly it is a Django application, so i now have some experience with that. Its not working yet, but i'm getting there.

GOG are doing weekend sale celebrating French game studios and there's quite a few really good Linux games worth picking up.

It's seen a number of delays, along with repeated silence from the developer but it looks like Crazy Justice [Official Site] may finally arrive this month. After promising daily updates almost two weeks ago and then going silent, the developer Black Riddles Studio today put out an update on Twitter which gave an estimated release date of "anywhere between 20th-30th of July".

The libutf8proc package prior to version 2.1.1-3 had an incorrect soname link. This has been fixed in 2.1.1-3, so the upgrade will need to overwrite the untracked soname link created by ldconfig

As promised, Libre Computer's latest single-board computer is up for pre-order through a crowdfunding campaign. You can reserve a Renegade Elite for a pledge of $99 at Indiegogo and if everything goes according to plan, the tiny computer board with a Rockchip RK3399 processor should ship in September. The price includes a case, and Libre Computer says after the crowdfunding campaign concludes, the retail price will jump to $129.

Linux Kernel/Foundation

The Linux Foundation launched on July 12 its latest effort—LF Energy, an open-source coalition for the energy and power management sector. The LF Energy coalition is being backed by French transmission system operation RTE, Vanderbilt University and the European Network of Transmission System Operators (ENTSO-E). With LF Energy, the Linux Foundation is aiming to replicate the success it has seen in other sectors, including networking, automotive, financial services and cloud computing.

AMD's leading open-source RadeonSI Gallium3D developer, Marek Olšák, sent out a new patch series this week aiming to benefit this Radeon OpenGL driver's performance in CPU-bound scenarios. The patch series is a set of command submission optimizations aimed to help trivial CPU-bound benchmarks to varying extents. In the very trivial glxgears, the patch series is able to improve the maximum frame-rates by around 10%.

After several big feature pull requests of new "i915" Intel DRM driver features landing in DRM-Next for Linux 4.19, the Intel open-source developers have sent in what they believe to be their last batch of feature changes for queuing this next kernel cycle.

OSS Leftovers

Open source governance accelerates innovation [Ed: Evolution of the tactics by which anti-FOSS proprietary software firms, Sonatype in this case, try to sell their 'wares']

DragonFlyBSD lead developer Matthew Dillon has provided an update on the open-source operating system project's infrastructure and acknowledging the SSD upgrades that are noticeably beneficial over HDDs. DragonFlyBSD has recently been replacing various HDDs with SSDs in their build machines and other systems having an important presence in their infrastructure. Following these storage upgrades, things have been running great and ultimately should deliver a snappier experience for users and developers.

A new release of the Binutils collection of important tools is now available with a number of new features and improvements. Binutils 2.31 contains work like direct linking with DLLs for Cygwin/Mingw targets now being faster, AArch64 disassembler improvements, MIPS GINV and CRC extension support, Freescale S12Z architecture support, the x86 assembler now supports new command line options to enable alternative shorter instruction encodings, and the Gold linker now supports Intel Indirect Branch Tracking and Shadow Stack instructions.

The other day we reported on a GCC 8 regression where Skylake and newer CPUs with "-march=native" haven't been performance as optimally as they should be. Fortunately, that patch was quickly landed into the GCC SVN/Git code for GCC 9 as well as back-ported to GCC 8. In the GCC 8.1 release and mainline code since April, as the previous article outlined, when using "-march=native" as part of the compiler flags with GCC the full capabilities of the CPU haven't been leveraged. This affects Intel Skylake CPUs and newer generations, including yet to be released hardware like Cannonlake and Icelake.

ARM is under fire for the way it attempted to kneecap a fledgling open-source hardware project, and has retreated from its own line of attack after several days. ARM had launched a website, riscv-basics.com, which purported to offer "real" information on the rival ISA. As one might expect, the "information" on display was a bit less neutral than a visitor might hope for. Taking this kind of shot against an open-source hardware project also struck many in the OSS community as being in exceptionally poor taste, given how critical open source software has been to ARM's overall success and visibility. First, a bit of background: RISC-V is an open-source ISA based on RISC principles and is intended to eventually provide flexible CPU cores for a wide variety of use-cases. By using the BSD license, the RISC-V teams hope to allow for a greater range of projects that support both open and proprietary CPU designs. RISC-V CPUs are already available today in a range of roles and capabilities. Despite some modest initial success, RISC-V, today, isn't even a rounding error in CPU marketshare measurements. It's certainly no threat to ARM, which enjoys the mother of all vendor lock-ins measured in per-device terms.

 

He lays out a list of things that the users will need to consider going forwards like who has banning rights and who inducts noobs to the core developer team, but its laid out in a context of 'do what you want but keep me out of it'.  

"I'll still be here, but I'm trying to let you all figure something out for yourselves. I'm tired, and need a very long break."