LibreOffice 4.4 review – Finally, it rocks
Submitted by Roy Schestowitz on Wednesday 18th of February 2015 07:13:57 PM
Filed under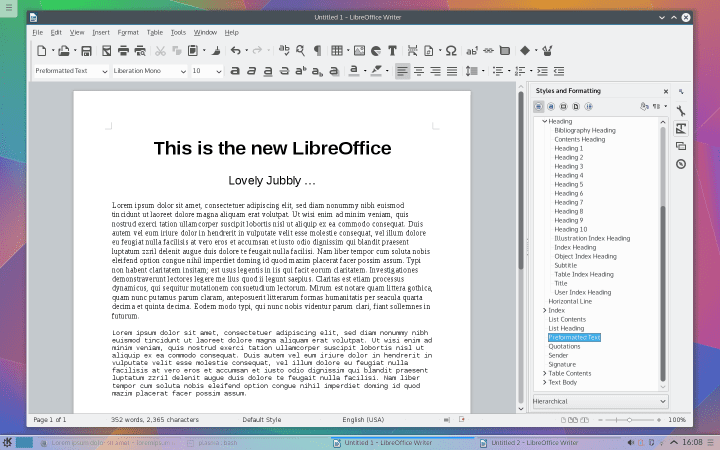 LibreOffice is the flagship office suite for Linux. It's also quite popular with Windows users. As a free, open-source and cross-platform solution, LibreOffice allows people to enjoy the world of writing, spreadsheets, presentations and alike without having to spend hefty sums of money. The only problem till now was that it didn't quite work as advertised. Microsoft Office support was, for the lack of a better word, lacking.
Version 4.4 is out, and it promises a great deal. A simplified interface, new looks, much improved proprietary file format support. Sounds exciting, and as someone who has lambasted LibreOffice for this very reason in the past, I felt compelled to give this new edition its due rightful try. On top of Plasma 5 no less. So let's see.
»
Printer-friendly version

1677 reads

PDF version
More in Tux Machines
Flatkill and Latest Security Patches

Flatpaks are are very useful tool however, they're not perfect and some people have taken it upon themselves to show off the problems that exist with them in this case this author discusses some of the security problems but they make a few very simple mistakes along the way.

Security updates have been issued by Debian (thunderbird), Fedora (createrepo_c, dnf-plugins-core, dnf-plugins-extras, librepo, livecd-tools, and pdns-recursor), openSUSE (firefox and mailman), Oracle (firefox), Red Hat (chromium-browser, java-1.8.0-openjdk, and Satellite 6.8), Scientific Linux (java-1.8.0-openjdk), SUSE (libvirt), and Ubuntu (blueman, firefox, mysql-5.7, mysql-8.0, php7.4, and ruby-kramdown).

NixOS 20.09 released

Stabilization of the NixOS happens a month before planned release. The goal is to have as little as possible continuous integration (Hydra) jobs failing before the release is cut. While we would like to release on time, a high quality release is more important. Individuals who contributed to stabilizing this release: volth, Robert Scott, Tim Steinbach, WORLDofPEACE, Maximilian Bosch, Thomas Tuegel, Doron Behar, Vladimír Čunát, Jonathan Ringer, Maciej Krüger, and 190 others!

Python Programming

Chemtool: Open-source Chemical Structure drawing program

Chemtool is a lightweight application for drawing chemical structures like organic molecules. It's originally written by Thomas Volk from Germany. Later on, more developers came to aid for development and code maintenance. [...] The program is created for Linux X systems, it does not work on Windows or macOS. License Chemtool is released under GNU General Public License.