Fedora 22 Beta To Be Delayed By One Week
Submitted by Rianne Schestowitz on Thursday 9th of April 2015 09:05:16 PM
Filed under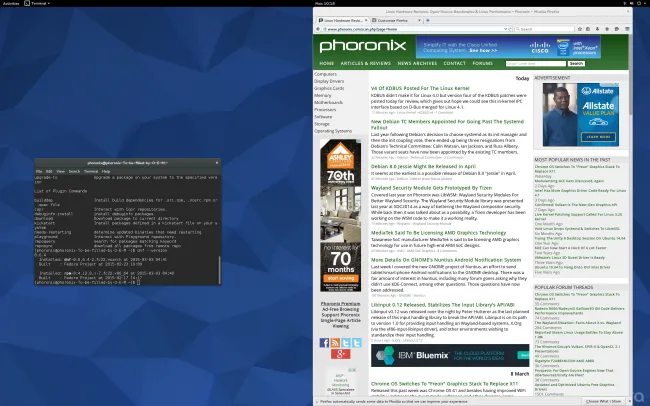 While Fedora developers did a good job getting out the Fedora 22 Alpha on time, the beta release of Fedora 22 will come at least one week late.
At today's Go/No-Go meeting it was decided F22 Beta isn't ready to ship next week but will have to be delayed by one week at least to take care of unresolved blocker bugs. This beta delay pushes back all future F22 milestones -- including the release of F22 final expected to take place in May.
»
Printer-friendly version

1327 reads

PDF version
More in Tux Machines
Freespire 7.0 Released with the Xfce Desktop, Based on Ubuntu 20.04 LTS

Arriving more than nine months after Freespire 6.0, the Freespire 7.0 release is based on the Ubuntu 20.04 LTS (Focal Fossa) operating system series with the long-term supported Linux 5.4 kernel and uses the latest Xfce 4.14 desktop environment by default. Freespire 7.0 is packed with many popular applications, including the latest Chromium 86 web browser, Mozilla Thunderbird 68.12 email client, Synaptic package manager, Abiword word processor, Gnumeric spreadsheet editor, Parole media player, Transmission torrent downloader, KolourPaint digital painting app, as well as the KPatience card sorting game and DreamChess chess game.

LibreOffice 7.0.3 Released With 90+ Bug Fixes and More Compatibility

The bleeding-edge version of LibreOffice 7.0.3 is released by The Document Foundation (TDF) and it is immediately available for download or update. This is the third point release in the LibreOffice 7.0 release which brings a huge set of changes to this free and open-source office suite.

today's howtos

Best Comic Book Reading Apps for Linux

This article will list comic book reading applications available for Linux. Some of these applications are specially designed for reading comic books while others are e-book readers and general purpose document readers that support multiple digital comic book file formats.