I like Plasma 5
Submitted by Rianne Schestowitz on Wednesday 15th of April 2015 08:44:52 PM
Filed under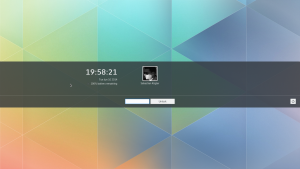 Yes, you read that well. I'm a hardcore Gnome user since… 2002 and I don't really to switch to KDE/Plasma just yet. However, I just wanted to share some of my thoughts concerning Plasma, the new name of the KDE desktop. Plasma 5 is the brand new KDE desktop, coming after the KDE 4.x series and only a handful of distributions have picked up on it. As it were, you could already install and run Plasma 5 on Arch Linux since about January 2015 and a bit earlier I think but as I was reporting here, I was busy with my new laptop and getting progressively into emacs; as such I did not pay much attention to it. During FOSDEM however I noticed Plasma 5 at the KDE and OpenSuse booths and I spent a minute standing there: I really liked what I was looking at, but I was thinking that some sort of heavy theming of the KDE desktop had been going on for the event.
»
Printer-friendly version

961 reads

PDF version
More in Tux Machines
today's leftovers

Programming Leftovers

Free Software Leftovers

Asymmetric Multi Processing with Linux & Zephyr on the STM32MP1

In the embedded world, more and more vendors offer Arm-based System-on-Chips (SoC) including both powerful Cortex-A CPU cores, designed to run a full-featured OS such as Linux, and one or more low-power Cortex-M cores, usually found in microcontrollers, designed to execute bare-metal or RTOS-based applications. [...] While the Linux kernel can run on a wide range of devices, it requires a decent amount of memory (> 4MB), and therefore cannot be used on memory-constrained microcontrollers. Enters Zephyr, a project initiated by Wind River, now developed as a Linux Foundation project.