I like Plasma 5
Submitted by Rianne Schestowitz on Wednesday 15th of April 2015 08:44:52 PM
Filed under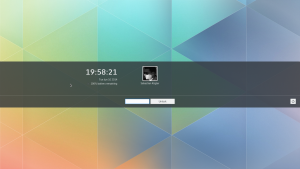 Yes, you read that well. I'm a hardcore Gnome user since… 2002 and I don't really to switch to KDE/Plasma just yet. However, I just wanted to share some of my thoughts concerning Plasma, the new name of the KDE desktop. Plasma 5 is the brand new KDE desktop, coming after the KDE 4.x series and only a handful of distributions have picked up on it. As it were, you could already install and run Plasma 5 on Arch Linux since about January 2015 and a bit earlier I think but as I was reporting here, I was busy with my new laptop and getting progressively into emacs; as such I did not pay much attention to it. During FOSDEM however I noticed Plasma 5 at the KDE and OpenSuse booths and I spent a minute standing there: I really liked what I was looking at, but I was thinking that some sort of heavy theming of the KDE desktop had been going on for the event.
»
Printer-friendly version

974 reads

PDF version
More in Tux Machines
Let's Try Debian Unstable

You may have been familiar with the name Debian Unstable also known as Sid and may want to try it. As an Ubuntu user, this curiosity is nothing weird, as every release of Ubuntu itself is created from it, and many persons around you may talk about it pretty often. The secret is, there is no image file to download for it, so you cannot install it as an operating system. This is why I make this simple guide to invite you to try Debian Unstable on your computer. Let's go! [...] You must have a computer with Debian Stable installed. For example, you may install Debian in a virtual machine as it counts as one computer. At the time I write this, Stable is Debian 10. Next time, Stable will be Debian 11. If you do not have one yet, download Debian 10, and install it to your computer. Please be aware that doing this will require you large data transfer and also time. As an example,in an expe riment it requires ~2GB download, ~4GB storage, and no less than 4 hours to finish. [...] Finally, post-upgrade may introduce you to multiple packages need to be removed. This can be known by running simply $ sudo apt-get install without argument. It may say "some packages need to be removed by command line apt-get autoremove.

today's howtos

The 5 Best Linux PDF Editors You Should Try

Finding a good and reliable PDF editor is a nerve-racking job with all these unwanted opinions flying around on the internet. Everyone has different preferences and use cases for their PDF editor, and choosing the one that suits you the best is important. The number of applications available for Linux-based operating systems is immeasurable. But when it comes to PDF editors, only a handful of the apps top the chart. In this guide we have curated a list of the best Linux PDF editors that you can download for free on your computer.

How to Upgrade to Ubuntu 21.04 from Ubuntu 20.10 (Groovy to Hirsute)

Here are the steps on how to upgrade your Ubuntu 21.04 from Ubuntu 20.10 (Groovy Gorilla to Hirsute Hippo).