SourceForge locked in projects of fleeing users, cashed in on malvertising [Updated]
Submitted by Roy Schestowitz on Tuesday 2nd of June 2015 11:14:20 AM
Filed under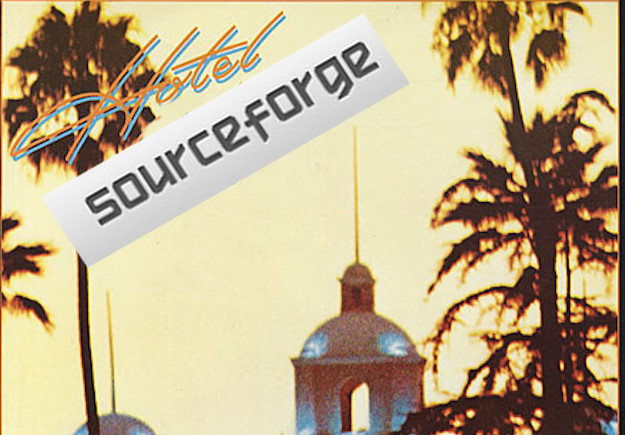 The takeover of the SourceForge account for the Windows version of the open-source GIMP image editing tool reported by Ars last week is hardly the first case of the once-pioneering software repository attempting to cash in on open-source projects that have gone inactive or have actually attempted to shut down their SourceForge accounts. Over the past few years, SourceForge (launched by VA Linux Systems in 1999 and now owned by the tech job site company previously known as Dice) has made it a business practice to turn abandoned or inactive projects into platforms for distribution of "bundle-ware" installers.
Despite promises to avoid deceptive advertisements that trick site visitors into downloading unwanted software and malware onto their computers, these malicious ads are legion on projects that have been taken over by SourceForge's anonymous editorial staff. SourceForge's search engine ranking for these projects often makes the site the first link provided to people seeking downloads for code on Google and Bing search results.
And because of SourceForge's policies, it's nearly impossible for open-source projects to get their code removed from the site. SourceForge is, in essence, the Hotel California of code repositories: you can check your project out any time you want, but you can never leave.
[Ed: Why am I not surprised?]
»
Printer-friendly version

1855 reads

PDF version
More in Tux Machines
Android Leftovers

GNOME 3.28 Linux Desktop Environment Development Kicks Off with First Snapshot

GNOME developer Javier Jardón is kicking off the development of the GNOME 3.28 desktop environment with the first snapshot, GNOME 3.27.1, which is now available for public testing.

How to manage casual contributors to open source projects

Increasingly, people want to contribute to projects casually—when they want to, rather than adhering to a schedule. This is part of a broader trend of "episodic volunteering" noted by a wide range of volunteer organizations and governments. This has been attributed not only to changes in the workforce, which leave fewer people able to volunteer with less spare time to share, but also to changes in how people perceive the act of volunteering. It is no longer seen as a communal obligation, rather as a conditional activity in which the volunteer also receives benefits. Moreover, distributed revision-control systems and the network effects of GitHub, which standardize the process of making a contribution, make it easier for people to contribute casually to free/libre/open source software (FLOSS) projects.

5 ways to invigorate education with Raspberry Pi

A couple of years ago, I was talking to PayPal senior director of software development Harper Reed at All Things Open in Raleigh, N.C., when he suggested that the best way to invigorate education would be to purchase Raspberry Pis en masse and put them in public libraries. Although many schools have made sizeable investments in classroom technology, those investments have done little to advance students' understanding of how the technology works. That's where the Raspberry Pi comes in, as it's the ideal vehicle to demonstrate the educational efficacy of open source software and open hardware in the classroom.