SourceForge locked in projects of fleeing users, cashed in on malvertising [Updated]
Submitted by Roy Schestowitz on Tuesday 2nd of June 2015 11:14:20 AM
Filed under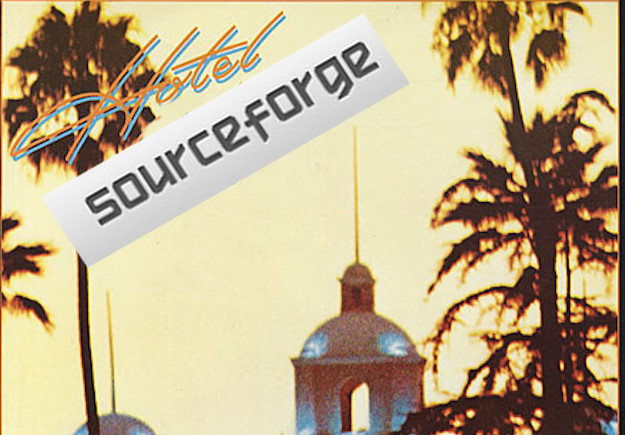 The takeover of the SourceForge account for the Windows version of the open-source GIMP image editing tool reported by Ars last week is hardly the first case of the once-pioneering software repository attempting to cash in on open-source projects that have gone inactive or have actually attempted to shut down their SourceForge accounts. Over the past few years, SourceForge (launched by VA Linux Systems in 1999 and now owned by the tech job site company previously known as Dice) has made it a business practice to turn abandoned or inactive projects into platforms for distribution of "bundle-ware" installers.
Despite promises to avoid deceptive advertisements that trick site visitors into downloading unwanted software and malware onto their computers, these malicious ads are legion on projects that have been taken over by SourceForge's anonymous editorial staff. SourceForge's search engine ranking for these projects often makes the site the first link provided to people seeking downloads for code on Google and Bing search results.
And because of SourceForge's policies, it's nearly impossible for open-source projects to get their code removed from the site. SourceForge is, in essence, the Hotel California of code repositories: you can check your project out any time you want, but you can never leave.
[Ed: Why am I not surprised?]
»
Printer-friendly version

1949 reads

PDF version
More in Tux Machines
Today in Techrights

Android Leftovers

Our Favourite Apps for Ubuntu

We enjoy using Ubuntu mainly for gaming, writing, listening to music and browsing the web. (Lots and lots of browsing the web.) There are other apps that we would love to have on Ubuntu like Affinity Photo, a stunning image editor that's on par with Adobe's Photoshop that's available on Windows and Mac as well as Bear, a beautifully designed note taking app that we do most of our writing on that's only available for macOS. However, the Ubuntu platform has moved forward in leaps and bounds in recent years when it comes to the official availability of popular apps and we are confident that this trend will continue. What's your favourite Ubuntu apps?

Kernel Space: Plans for Linux 4.16, 4.15 Likely Out Shortly

When using Intel Skylake X / Xeon Scalable chips right now under Linux the ACPI CPUFreq driver is responsible for the CPU frequency scaling decisions. But with the upcoming Linux 4.16 kernel cycle, Intel's P-State driver will add support for Skylake X.

The Linux 4.16 kernel will feature Spectre Variant One "Bounds Check Bypass" mitigations. Retpolines and the CPU microcode updates have been for Spectre Variant Two while now a set of Linux kernel patches have been called for merging into -next for the upcoming Linux 4.16 kernel cycle.

Linux 4.15 will hopefully be released later today and that will kick off the start of the Linux 4.16 kernel merge window. Here's some of what is coming to this next kernel cycle.