Operating Systems in Tux Machines
Submitted by Roy Schestowitz on Saturday 27th of June 2015 01:14:59 AM
Filed under
Summary: Some numbers to show what goes on in sites that do not share information about their visitors (unlike Windows-centric sites which target non-technical audiences)
THE common perception of GNU/Linux is that it is scarcely used, based on statistics gathered from privacy-hostile Web sites that share (or sell) access log data, embed spyware in all of their pages, and so on. Our sites are inherently different because of a reasonable -- if not sometimes fanatic -- appreciation of privacy at both ends (server and client). People who read technical sites know how to block ads, impede spurious scripts etc. These sites also actively avoid anything which is privacy-infringing, such as interactive 'social' media buttons (these let third parties spy on all visitors in all pages).
Techrights and Tux Machines attract the lion's share our traffic (and server capacity). They both have dedicated servers. These are truly popular and some of the leaders in their respective areas. Techrights deals with threats to software freedom, whereas Tux Machines is about real-time news discovery and organisation (pertaining to Free software and GNU/Linux).
The Varnish layer, which protects both of these large sites (nearly 100,000 pages in each, necessitating a very large cache pool), handles somewhere between a gigabyte to 2.5 gigabytes of data per hour (depending on the time of day, usually somewhere in the middle of this range, on average).
The Apache layer, which now boasts 32 GB of RAM and sports many CPU cores, handled 1,324,232 hits for Techrights (ranked 6636th for traffic in Netcraft) in this past week and 1,065,606 for Tux Machines (ranked 6214th for traffic in Netcraft).
Based on VISITORS Web Log Analyzer, this is what we've had in Techrights:
Windows: (36.2%)
Linux: (31.8%)
Unknown: (e.g. bots/spiders): (23.0%)
Macintosh: (8.8%)
FreeBSD: (0.1%)
As a graph (charted with LibreOffice):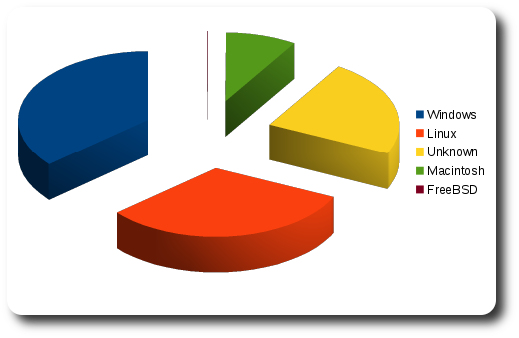 Tux Machines reveals a somewhat different pattern. Based on grepping/filtering the of past month's log at the Apache back end (not Varnish, which would have been a more sensible but harder thing to do), presenting the top 3 only: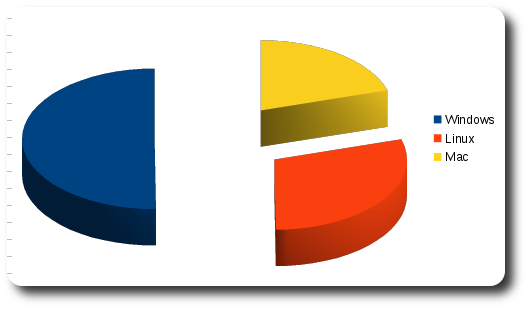 One month is as far as retention goes, so it's not possible to show long-term trends (as before, based on Susan's summary of data). Logs older than that are automatically deleted, as promised, for both sites -- forever! We just need a small tail of data (temporarily) for DDOS prevention. █
»
Printer-friendly version

21487 reads

PDF version
More in Tux Machines
Audiocasts: Full Circle Weekly News, mintCast and GNU World Order

KDE: Usability & Productivity Report From Nate Graham

This week in KDE's Usability & Productivity initiative, something big landed: virtual desktop support on Wayland, accompanied by a shiny new user interface for the X11 version too. Eike Hein has been working on this literally for months and I think he deserves a round of applause! It was a truly enormous amount of work, but now we can benefit for years to come.

KDE landing virtual desktop support on Wayland this week is certainly quite exciting while also a new UI was added for the X11 virtual desktop support too. Some of the other KDE improvements that landed this week and relayed by Nate Graham include the digital clock widget now allowing adjustments to the date formatting, the KDE Information Center's USB devices section will now actually display all USB devices, wallpaper chooser view improvements, and various other improvements.

Screenshots/Screencasts: Robolinux 10.4 LXDE, deepin 15.9, and Parrot OS 4.5 KDE

Livepatching With Linux 5.1 To Support Atomic Replace & Cumulative Patches

With the Linux 5.1 kernel cycle that should get underway in just over one month's time, there will now be the long in development work (it's been through 15+ rounds of public code review!) for supporting atomic replace and cumulative patches.