Operating Systems in Tux Machines
Submitted by Roy Schestowitz on Saturday 27th of June 2015 01:14:59 AM
Filed under
Summary: Some numbers to show what goes on in sites that do not share information about their visitors (unlike Windows-centric sites which target non-technical audiences)
THE common perception of GNU/Linux is that it is scarcely used, based on statistics gathered from privacy-hostile Web sites that share (or sell) access log data, embed spyware in all of their pages, and so on. Our sites are inherently different because of a reasonable -- if not sometimes fanatic -- appreciation of privacy at both ends (server and client). People who read technical sites know how to block ads, impede spurious scripts etc. These sites also actively avoid anything which is privacy-infringing, such as interactive 'social' media buttons (these let third parties spy on all visitors in all pages).
Techrights and Tux Machines attract the lion's share our traffic (and server capacity). They both have dedicated servers. These are truly popular and some of the leaders in their respective areas. Techrights deals with threats to software freedom, whereas Tux Machines is about real-time news discovery and organisation (pertaining to Free software and GNU/Linux).
The Varnish layer, which protects both of these large sites (nearly 100,000 pages in each, necessitating a very large cache pool), handles somewhere between a gigabyte to 2.5 gigabytes of data per hour (depending on the time of day, usually somewhere in the middle of this range, on average).
The Apache layer, which now boasts 32 GB of RAM and sports many CPU cores, handled 1,324,232 hits for Techrights (ranked 6636th for traffic in Netcraft) in this past week and 1,065,606 for Tux Machines (ranked 6214th for traffic in Netcraft).
Based on VISITORS Web Log Analyzer, this is what we've had in Techrights:
Windows: (36.2%)
Linux: (31.8%)
Unknown: (e.g. bots/spiders): (23.0%)
Macintosh: (8.8%)
FreeBSD: (0.1%)
As a graph (charted with LibreOffice):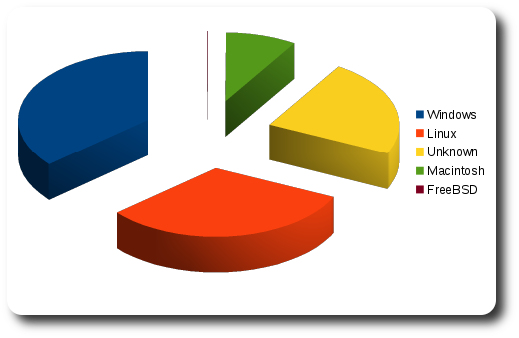 Tux Machines reveals a somewhat different pattern. Based on grepping/filtering the of past month's log at the Apache back end (not Varnish, which would have been a more sensible but harder thing to do), presenting the top 3 only: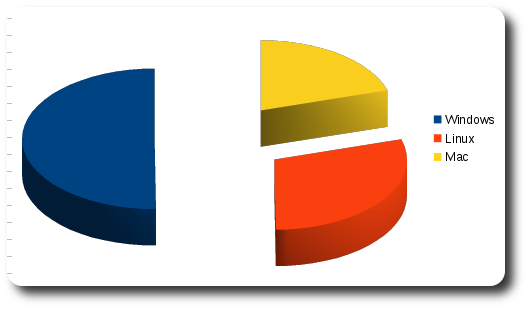 One month is as far as retention goes, so it's not possible to show long-term trends (as before, based on Susan's summary of data). Logs older than that are automatically deleted, as promised, for both sites -- forever! We just need a small tail of data (temporarily) for DDOS prevention. █
»
Printer-friendly version

33637 reads

PDF version
More in Tux Machines
Free Software Stigma and Upcoming Events

Open Source Software, since its birth, has made people wonder about its effects. The debate is never-ending, and for the right reasons. Giants like Apple have often viewed Open Source skeptically because they are mostly unfounded. However, one cannot deny that these sources are functional and flexible. They are also partly responsible for bringing the technological world in the right direction. But are they worth it? In this article, we shall learn all about open source companies and why use open source software, and why open source software is still not greeted warmly by certain companies. Therefore, without further ado, let's start right away.

Last week we had our most loved annual conference: X.Org Developers Conference 2021. As a reminder, due to COVID-19 situation in Europe (and its respective restrictions on travel and events), we kept it virtual again this year… which is a pity as the former venue was Gdańsk, a very beautiful city (see picture below if you don't believe me!) in Poland. Let's see if we can finally have an XDC there! [...] Big shout-out to the XDC 2021 organizers (Intel) represented by Radosław Szwichtenberg, Ryszard Knop and Maciej Ramotowski. They did an awesome job on having a very smooth conference. I can tell you that they promptly fixed any issue that happened, all of that behind the scenes so that the attendees not even noticed anything most of the times! That is what good conference organizers do!

This month has been nothing short of hectic, with back to back to back conferences filling up the calendar. Following Linaro Virual Connect, XDC, and Linux Plumbers (which ends today), Collaborans will be attending (virtually) next week's Open Source Summit + Embedded Linux Conference 2021. Connecting the open source ecosystem under one roof, the conference is "a unique environment for cross-collaboration between developers, sysadmins, devops, architects and others who are driving technology forward". Taking place from September 27-30, the event will be held in a hybrid format for the first time, with both in-person and virtual offerings, to ensure that everyone who wants to participate is able to do so.

Programming/Development Leftovers

CutefishOS: Unix-y development model? Check. macOS aesthetic? Check (if you like that sort of thing)

One of the reasons Linux has never caught on as a desktop operating system, as Linux fans know, is that Linux isn't a desktop operating system, it's a kernel. And assembling it into a coherent package users can install is the job of a distribution. This is a very different distribution model than the one Apple or Microsoft uses, and it confuses newcomers. Windows and macOS are easier to understand, they are single things made by single companies. Canonical and Red Hat notwithstanding, Linux is not packaged and presented this way at all. I've long believed that this difference is one of the key stumbling blocks to wider Linux adoption. Apple has macOS, Microsoft has Windows, Linux has... hundreds of awkward, confusingly named options. This is both Linux's greatest strength, and its greatest weakness. For those who already understand and use it the options are welcome. I've been a Linux user for over a decade and I've used several dozen distros, some of them so different from one another it's difficult to believe they're built from the same base. This wealth of options is great, but it's both confusing and overwhelming for new users. Distributions like elementary OS are popular with people switching from macOS and Windows because elementary OS offers that same highly polished, all-in-one package that makes the transition from proprietary operating systems smoother. But this is Linux, so you can't just have elementary OS. The latest distro to catch my eye is CutefishOS, which owes considerable design debt to both elementaryOS and the operating system made by that fruit company.

BattlEye confirms Linux support for Steam Deck

Just recently we had Epic Games announce that Easy Anti-Cheat now offers proper native Linux support and in addition support for Wine and Steam Play Proton - now we have BattlEye also confirming the same readying up for the Steam Deck.

Yesterday it was Epic Games confirming Easy Anti-Cheat for Linux and Wine/Proton ahead of the Steam Deck launch and today it's BattlEye confirming Proton / Steam Deck support. BattlEye has already provided native Linux support albeit not widely used. Today they tweeted that they will also be supporting the upcoming Steam Deck or more specifically the use of BattlEye within Proton. BattlEye is making this opt-in for game developers who wish to support its usage under Wine / Proton.