Operating Systems in Tux Machines
Submitted by Roy Schestowitz on Saturday 27th of June 2015 01:14:59 AM
Filed under
Summary: Some numbers to show what goes on in sites that do not share information about their visitors (unlike Windows-centric sites which target non-technical audiences)
THE common perception of GNU/Linux is that it is scarcely used, based on statistics gathered from privacy-hostile Web sites that share (or sell) access log data, embed spyware in all of their pages, and so on. Our sites are inherently different because of a reasonable -- if not sometimes fanatic -- appreciation of privacy at both ends (server and client). People who read technical sites know how to block ads, impede spurious scripts etc. These sites also actively avoid anything which is privacy-infringing, such as interactive 'social' media buttons (these let third parties spy on all visitors in all pages).
Techrights and Tux Machines attract the lion's share our traffic (and server capacity). They both have dedicated servers. These are truly popular and some of the leaders in their respective areas. Techrights deals with threats to software freedom, whereas Tux Machines is about real-time news discovery and organisation (pertaining to Free software and GNU/Linux).
The Varnish layer, which protects both of these large sites (nearly 100,000 pages in each, necessitating a very large cache pool), handles somewhere between a gigabyte to 2.5 gigabytes of data per hour (depending on the time of day, usually somewhere in the middle of this range, on average).
The Apache layer, which now boasts 32 GB of RAM and sports many CPU cores, handled 1,324,232 hits for Techrights (ranked 6636th for traffic in Netcraft) in this past week and 1,065,606 for Tux Machines (ranked 6214th for traffic in Netcraft).
Based on VISITORS Web Log Analyzer, this is what we've had in Techrights:
Windows: (36.2%)
Linux: (31.8%)
Unknown: (e.g. bots/spiders): (23.0%)
Macintosh: (8.8%)
FreeBSD: (0.1%)
As a graph (charted with LibreOffice):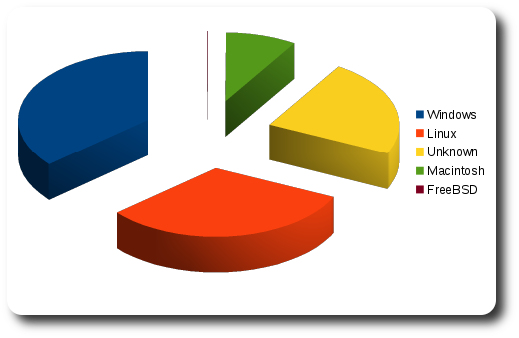 Tux Machines reveals a somewhat different pattern. Based on grepping/filtering the of past month's log at the Apache back end (not Varnish, which would have been a more sensible but harder thing to do), presenting the top 3 only: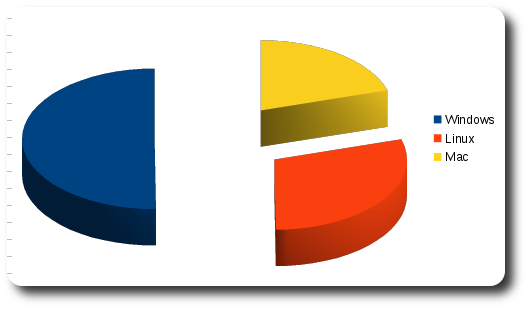 One month is as far as retention goes, so it's not possible to show long-term trends (as before, based on Susan's summary of data). Logs older than that are automatically deleted, as promised, for both sites -- forever! We just need a small tail of data (temporarily) for DDOS prevention. █
»
Printer-friendly version

20173 reads

PDF version
More in Tux Machines
Samsung Linux on DeX beta hands-on: do almost everything on your phone

Among the various Linux on Android implementations, Samsung's Linux on DeX definitely looks the most polished ready to use solution, even if it's still in beta form. Although it uses a two-year-old version of Ubuntu, there is already a lot that can be done from that. Plus, just like Android users, Linux users can be pretty creative and only time will tell if they'll be able to use Linux on DeX to make almost any Linux distro work.

Android Leftovers

A Look At The GCC 9 Performance On Intel Skylake Against GCC 8, LLVM Clang 7/8

With GCC 9 embarking upon its third stage of development where the focus ships to working on bug/regression fixes in preparation for releasing the GCC 9.1 stable compiler likely around the end of Q1'2019, here is a fresh look at the GCC 9 performance with its latest development code as of this week compared to GCC 8.2.0 stable while using an Intel Core i9 7980XE test system running Ubuntu Linux. For good measure are also fresh results from LLVM Clang 7.0 stable as well as LLVM Clang 8.0 SVN for the latest development state of that competing C/C++ open-source compiler.

This under-$6 SBC runs Linux on RISC-V based C-SKY chip

Hangzhou C-SKY has launched a "C-SKY Linux Development Board" for $5.60 and up, featuring a RISC-V derived, 574MHz C-SKY GX6605S CK610M SoC, 64MB DDR2, an HDMI port, and 2x USB 2.0 ports. Last month, Hangzhou C-SKY Microsystems Co. announced Linux 4.20~5.0 kernel support for its new RISC-V based C-SKY CK810 SoC design. Now, Hangzhou C-SKY has launched a development board that runs Linux on a similar CK610M SoC. The C-SKY Linux Development Board sells for 39-40 Yuan ($5.60 to $7.05) on Taobao and $19.50 to $21.50 on AliExpress.