Operating Systems in Tux Machines
Submitted by Roy Schestowitz on Saturday 27th of June 2015 01:14:59 AM
Filed under
Summary: Some numbers to show what goes on in sites that do not share information about their visitors (unlike Windows-centric sites which target non-technical audiences)
THE common perception of GNU/Linux is that it is scarcely used, based on statistics gathered from privacy-hostile Web sites that share (or sell) access log data, embed spyware in all of their pages, and so on. Our sites are inherently different because of a reasonable -- if not sometimes fanatic -- appreciation of privacy at both ends (server and client). People who read technical sites know how to block ads, impede spurious scripts etc. These sites also actively avoid anything which is privacy-infringing, such as interactive 'social' media buttons (these let third parties spy on all visitors in all pages).
Techrights and Tux Machines attract the lion's share our traffic (and server capacity). They both have dedicated servers. These are truly popular and some of the leaders in their respective areas. Techrights deals with threats to software freedom, whereas Tux Machines is about real-time news discovery and organisation (pertaining to Free software and GNU/Linux).
The Varnish layer, which protects both of these large sites (nearly 100,000 pages in each, necessitating a very large cache pool), handles somewhere between a gigabyte to 2.5 gigabytes of data per hour (depending on the time of day, usually somewhere in the middle of this range, on average).
The Apache layer, which now boasts 32 GB of RAM and sports many CPU cores, handled 1,324,232 hits for Techrights (ranked 6636th for traffic in Netcraft) in this past week and 1,065,606 for Tux Machines (ranked 6214th for traffic in Netcraft).
Based on VISITORS Web Log Analyzer, this is what we've had in Techrights:
Windows: (36.2%)
Linux: (31.8%)
Unknown: (e.g. bots/spiders): (23.0%)
Macintosh: (8.8%)
FreeBSD: (0.1%)
As a graph (charted with LibreOffice):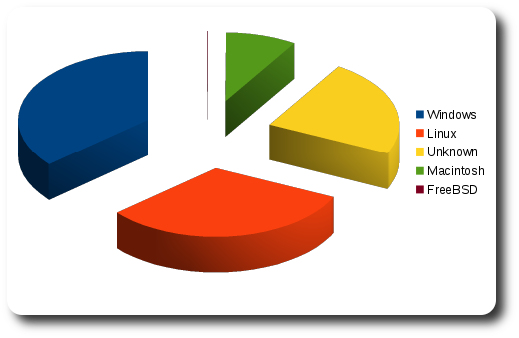 Tux Machines reveals a somewhat different pattern. Based on grepping/filtering the of past month's log at the Apache back end (not Varnish, which would have been a more sensible but harder thing to do), presenting the top 3 only: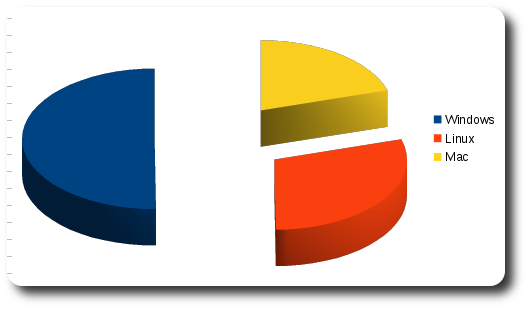 One month is as far as retention goes, so it's not possible to show long-term trends (as before, based on Susan's summary of data). Logs older than that are automatically deleted, as promised, for both sites -- forever! We just need a small tail of data (temporarily) for DDOS prevention. █
»
Printer-friendly version

13807 reads

PDF version
More in Tux Machines
Radeon GPUs Are Increasingly Competing With NVIDIA GPUs On Latest RadeonSI/RADV Drivers

As it's been a few weeks since last delivering a modest Linux GPU comparison and given the continuously evolving state of the Linux kernel Git tree as well as the Mesa project that houses the RadeonSI OpenGL and RADV Vulkan drivers, here are our latest benchmarks showing the current state of the AMD Radeon open-source Linux graphics driver performance relative to NVIDIA's long-standing and high-performance but proprietary driver using several different graphics cards.

AMD And CTS Labs: A Story Of Failed Stock Manipulation

We have attempted to contact Jessica Schaefer from Bevel PR, the listed PR firm on the vulnerability disclosure website, only to be greeted by a full voicemail inbox. We attempted to contact both Bevel PR and CTS Labs by email and inquire about the relationship between CTS and Viceroy, and provided them with ample time to respond. They did not respond to our inquiry. So, let's look at Viceroy Research. According to MoneyWeb, Viceroy Research is headed by a 44-year-old British citizen and ex-social worker, John Fraser Perring, in conjunction with two 23-year-old Australian citizens, Gabriel Bernarde and Aidan Lau. I wonder which of these guys is so fast at typing. Viceroy Research was the group responsible for the uncovering of the Steinhoff accounting scandal, about which you can read more here. After successfully taking down Steinhoff, it tried to manufacture controversy around Capitec Bank, a fast-growing South African bank. This time it didn't work out so well. The Capitec stock price dropped shortly and quickly recovered when the South African reserve bank made a statement that Capitec's business is sound. Just a week ago Viceroy attempted to do the same thing with a German company called ProSieben, also with mixed success, and in alleged breach of German securities laws, according to BaFin (similar to the SEC). Now, it appears it is going after AMD, though it looks to be another unsuccessful attack. Investor Takeaway After the announcement of this news, AMD stock generally traded sideways with slight downward movement, not uncommon for AMD in general. Hopefully this article showed you that CTS's report is largely nonsense and a fabrication with perhaps a small kernel of truth hidden somewhere in the middle. If the vulnerabilities are confirmed by AMD, they are likely to be easily fixed by software patches. If you are long AMD, stay long. If you are looking for an entry point, this might be a good opportunity to use this fake news to your advantage. AMD is a company with a bright future if it continues to execute well, and we see it hitting $20 per share by the end of 2018.

Canonical Officially Announces Mozilla's Firefox as a Snap App for Ubuntu Linux

The Firefox Snap package appears to be maintained by Mozilla, which allows Linux users to test drive the latest features of their Quantum browser on multiple GNU/Linux distributions that support Canonical's Snappy universal binary format. Developed by Canonical, the Snap universal application packaging format for Linux lets Linux users enjoy the most recent release of a software product as soon as it's released upstream. It's secure by design and works natively on multiple popular Linux OSes.

today's leftovers

Unfortunately the AMDKFD GPUVM support for discrete GPUs isn't looking like it will make it for the Linux 4.17 kernel cycle. This past week brought the AMDKFD updates for DRM-Next, a.k.a. Linux 4.17. While it has much of the discrete GPU support landing that we have long been looking forward to seeing in the mainline kernel in order to run ROCm OpenCL out-of-the-box, unfortunately, the GPUVM support wasn't part of that pull. The GPUVM support for discrete Radeon GPUs was still being discussed and not ready for pulling.

When I used Krita for the first time I already knew most of the tools, so it was easy to use. But I needed to learn more, then I watched a video that explained the basic tools and method to paint. I thought then that Krita was a good tool for painting. Today I can tell it's a great tool for digital artists. My personal opinion: Krita is the best and I really can't use a different program.

Very small Roundup this week, so there will be space for the CLT report and pics – thanks Marc for writing this up! Loads of updates through; as always, you can check for yourself on Mageia Advisories, the Mageia AppDB, PkgSubmit to see the last 48 hours, and Bugzilla to see what's currently happening.