Operating Systems in Tux Machines
Submitted by Roy Schestowitz on Saturday 27th of June 2015 01:14:59 AM
Filed under
Summary: Some numbers to show what goes on in sites that do not share information about their visitors (unlike Windows-centric sites which target non-technical audiences)
THE common perception of GNU/Linux is that it is scarcely used, based on statistics gathered from privacy-hostile Web sites that share (or sell) access log data, embed spyware in all of their pages, and so on. Our sites are inherently different because of a reasonable -- if not sometimes fanatic -- appreciation of privacy at both ends (server and client). People who read technical sites know how to block ads, impede spurious scripts etc. These sites also actively avoid anything which is privacy-infringing, such as interactive 'social' media buttons (these let third parties spy on all visitors in all pages).
Techrights and Tux Machines attract the lion's share our traffic (and server capacity). They both have dedicated servers. These are truly popular and some of the leaders in their respective areas. Techrights deals with threats to software freedom, whereas Tux Machines is about real-time news discovery and organisation (pertaining to Free software and GNU/Linux).
The Varnish layer, which protects both of these large sites (nearly 100,000 pages in each, necessitating a very large cache pool), handles somewhere between a gigabyte to 2.5 gigabytes of data per hour (depending on the time of day, usually somewhere in the middle of this range, on average).
The Apache layer, which now boasts 32 GB of RAM and sports many CPU cores, handled 1,324,232 hits for Techrights (ranked 6636th for traffic in Netcraft) in this past week and 1,065,606 for Tux Machines (ranked 6214th for traffic in Netcraft).
Based on VISITORS Web Log Analyzer, this is what we've had in Techrights:
Windows: (36.2%)
Linux: (31.8%)
Unknown: (e.g. bots/spiders): (23.0%)
Macintosh: (8.8%)
FreeBSD: (0.1%)
As a graph (charted with LibreOffice):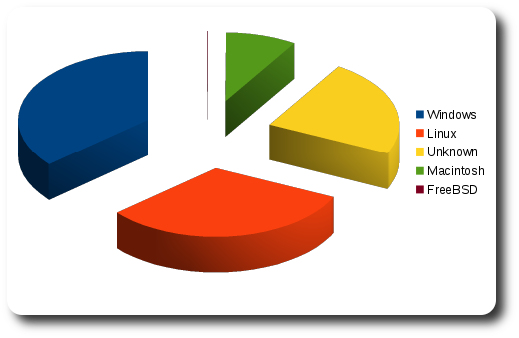 Tux Machines reveals a somewhat different pattern. Based on grepping/filtering the of past month's log at the Apache back end (not Varnish, which would have been a more sensible but harder thing to do), presenting the top 3 only: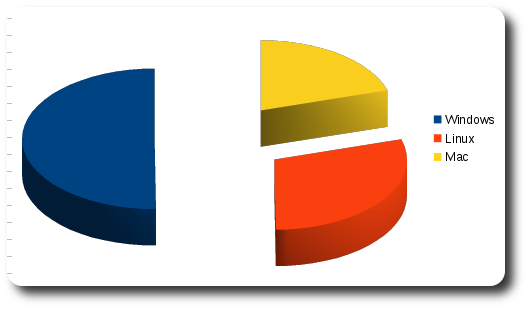 One month is as far as retention goes, so it's not possible to show long-term trends (as before, based on Susan's summary of data). Logs older than that are automatically deleted, as promised, for both sites -- forever! We just need a small tail of data (temporarily) for DDOS prevention. █
»
Printer-friendly version

19237 reads

PDF version
More in Tux Machines
OSS Leftovers

New CloudBees Suite Addresses DevOps Gaps in Software Delivery

CloudBees is bringing a set of products into a new CloudBees Suite that it said will help companies of all sizes streamline the software development process. The new software is set to be announced Sept. 18 at the company's DevOps World / Jenkins World conference in San Francisco. Jenkins is the open-source version of CloudBees, which is a commercial offering. A central piece of the CloudBees Suite is the CloudBees Core for unified governance of continuous delivery operations and processes used in DevOps. Software pipelines can also use Core to run software pipelines more efficiently in a self-managed way in the cloud or on-premises. Also: CloudBees Announces Availability of Support for Jenkins Open Source

Chrome's Latest

Google's big Chrome overhaul that arrived on desktop and mobile earlier this month is coming to Chromebooks today with the release of Chrome OS version 69. The really noticeable change is the new Material Theme redesign of Chrome itself, which brings tabs with rounded corners and some softer aesthetic elements, like a blank white new tab page, to the overall look and feel of the browser.

Chrome OS 69 is rolling out today following the Android and desktop release last week. Version 69 includes the Google Material Theme to coincide with the browser's 10th anniversary. Meanwhile, Linux apps are launching on the stable channel for select devices, while Chrome OS adds Night Light and easier to access system-level voice dictation.

The feature raised some hackles and brought back memories of Microsoft's strong-arm tactics promoting its old Internet Explorer browser in the first browser wars two decades ago. But Microsoft isn't alone in such tactics: Google promotes its Chrome browser as faster and safer to people who visit its own websites with other browsers. Microsoft didn't immediately respond to a request for comment about the change of direction.

Everything Is File In Linux - Part 1

Divided into 2 parts, in this first part I will introduce the concept that everything is file and present the special devices / dev / null, / dev / zero, / dev / random and / dev / full. Part 2 will be to present didactically interesting features about this, for example, how to turn a file into a partition!