Operating Systems in Tux Machines
Submitted by Roy Schestowitz on Saturday 27th of June 2015 01:14:59 AM
Filed under
Summary: Some numbers to show what goes on in sites that do not share information about their visitors (unlike Windows-centric sites which target non-technical audiences)
THE common perception of GNU/Linux is that it is scarcely used, based on statistics gathered from privacy-hostile Web sites that share (or sell) access log data, embed spyware in all of their pages, and so on. Our sites are inherently different because of a reasonable -- if not sometimes fanatic -- appreciation of privacy at both ends (server and client). People who read technical sites know how to block ads, impede spurious scripts etc. These sites also actively avoid anything which is privacy-infringing, such as interactive 'social' media buttons (these let third parties spy on all visitors in all pages).
Techrights and Tux Machines attract the lion's share our traffic (and server capacity). They both have dedicated servers. These are truly popular and some of the leaders in their respective areas. Techrights deals with threats to software freedom, whereas Tux Machines is about real-time news discovery and organisation (pertaining to Free software and GNU/Linux).
The Varnish layer, which protects both of these large sites (nearly 100,000 pages in each, necessitating a very large cache pool), handles somewhere between a gigabyte to 2.5 gigabytes of data per hour (depending on the time of day, usually somewhere in the middle of this range, on average).
The Apache layer, which now boasts 32 GB of RAM and sports many CPU cores, handled 1,324,232 hits for Techrights (ranked 6636th for traffic in Netcraft) in this past week and 1,065,606 for Tux Machines (ranked 6214th for traffic in Netcraft).
Based on VISITORS Web Log Analyzer, this is what we've had in Techrights:
Windows: (36.2%)
Linux: (31.8%)
Unknown: (e.g. bots/spiders): (23.0%)
Macintosh: (8.8%)
FreeBSD: (0.1%)
As a graph (charted with LibreOffice):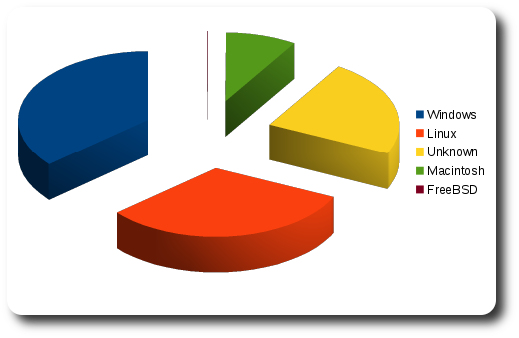 Tux Machines reveals a somewhat different pattern. Based on grepping/filtering the of past month's log at the Apache back end (not Varnish, which would have been a more sensible but harder thing to do), presenting the top 3 only: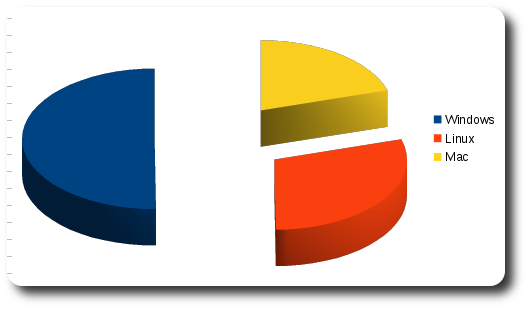 One month is as far as retention goes, so it's not possible to show long-term trends (as before, based on Susan's summary of data). Logs older than that are automatically deleted, as promised, for both sites -- forever! We just need a small tail of data (temporarily) for DDOS prevention. █
»
Printer-friendly version

34205 reads

PDF version
More in Tux Machines
Android Leftovers

Top 5 Programming Languages for Developing Linux Desktop Applications

The IT industry is the quickest developing industry. It is befuddling to choose the one appropriate and useful choice as it has bunches of language choices. It could be a troublesome inquiry for an entrepreneur who needs to foster a work area application or somebody new to writing computer programs is which language ought to be your inclination. Linux on work area, Linux developers and programming engineers are investing more energy and difficult work in creating work area applications that will coordinate with applications on Windows and Mac OS X work areas. This is valid, particularly with an endless number of Linux dispersions that are centered on making it simple for new Linux clients to handily adjust to the working framework.

Fedora 35 Cleared For Release Next Week

After dealing with blocker bugs the past two weeks, Fedora 35 is now confirmed for releasing next week. The latest Fedora 35 RC compose has been declared a "GO" at today's Fedora meeting for releasing next week. Fedora 35 will be shipping on 2 November after missing its original final target date of 19 October and follow-up of 26 October due to unresolved issues. It's not as bad like Fedora's notorious release delays from many years ago and at least they side with quality rather than timeliness. Confirmation of Fedora 35 being ready to ship next week was announced today.

Interview of Nicolas Lécureuil, chair of the Mageia Board, on Linuxfr.org

Nicolas Lécureuil, alias NeoClust, is a long time user of LinuxFr.org. He has an account on the website dedicated to Linux since 2005. Nicolas became the president of the Board of Mageia early in 2021. Nicolas has been, and still is, very active everywhere in the Mageia forums, discussion lists and the cauldron development, where new versions of the distribution are being cooked. In this interview, we will see that he is an early Mageian. Also, we will discover his ambitions and projects for this distribution, which is one of the most accessible to the general public.