Wine Announcement
Submitted by Roy Schestowitz on Sunday 6th of September 2015 08:38:15 AM
Filed under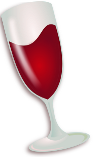 The Wine development release 1.7.51 is now available.
What's new in this release (see below for details):
- XAudio2 implementation using OpenAL Soft.
- Support for the new Universal C Runtime DLL.
- Dropdown menu support in the standard Open Dialog.
- Grayscale rendering mode in DirectWrite.
- Various bug fixes.
The source is available from the following locations:
http://prdownloads.sourceforge.net/wine/wine-1.7.51.tar.bz2
http://mirrors.ibiblio.org/wine/source/1.7/wine-1.7.51.tar.bz2
»
Printer-friendly version

1322 reads

PDF version