It's the year of the Linux desktop, for Dell, in China
Submitted by Rianne Schestowitz on Tuesday 15th of September 2015 09:49:59 PM
Filed under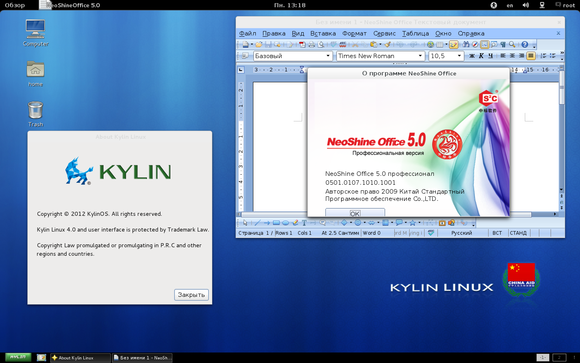 For years, the "year of the Linux desktop" was right around the corner: Open-source software would displace Windows (or Window$), and usher in a glorious, peaceful revolution in the computing industry.
If Dell is to be believed, that revolution is happening now.
Dell's head of China told The Wall Street Journal that NeoKylin Linux is shipped on 42 percent of the PCs it sells into the country, primarily for the commercial and government PCs that Dell specializes in. Hewlett-Packard also ships NeoKylin-equipped PCs to China, the paper said, but it's unclear how many they sell with the OS installed.
In 2010, China Standard Software and the National University of Defense Technology teamed up to launch NeoKylin as a secure alternative to foreign software, such as Windows. (A screenshot of the original Kylin Linux is above.) TechinAsia claims that NeoKylin was based on Ubuntu Kylin, which was developed for the Chinese by Canonical.
»
Printer-friendly version

2868 reads

PDF version
More in Tux Machines
Matthew Arnold: Why I switched to Fedora

To a veteran user of other distributions, Fedora can be a challenge. Many things are not where you expect them to be. The default LVM volume allocations are a bit tricky. And packages including the kernel are frequently upgraded. So why switch after years of using other distributions? In my case, for a variety of technical and political reasons, Fedora was the best option if I wanted to continue using Linux as my daily driver. If you are making the transition from another distribution, here are some observations and tips to get you started.

AWOW AK41 Mini Desktop PC – Gaming – Week 5

This is a weekly blog chronicling my experiences of running the AWOW AK41 Mini Desktop PC on Linux. I've already touched on the graphics capabilities of the AWOW AK41. To recap, this Mini PC uses the Intel UHD Graphics 605, an integrated processor graphics unit from the Gemini Lake generation. Performance of the graphics unit is widely reported as in the low-end segment and rarely sufficient for modern games. It's often touted that integrated graphics are not meant for gaming. But what does that really mean? There are tons of free games available for Linux. Many of them aren't that graphically demanding.

today's leftovers

The 10 Best KDE Plasma Widgets for KDE Desktop Environment

If you were looking for the best KDE Plasma widgets for your Linux desktop, then you are in the right place. There is much debate about the fact of who implemented the widget feature first on a computer GUI. But nobody can deny that the widgets have brought a new era in the modern user interface. Most of the people rely on beautiful widgets for performing different tasks without opening the main instance of the program. Although Windows ditched their native desktop widgets feature with their Windows 8 for the sake of the live tiles. Linux still has a great library of widgets that are being maintained by the developer community.