Cookie Lickers, Headless Chickens & Other Open Source Troublemakers
Submitted by Roy Schestowitz on Friday 13th of November 2015 12:43:39 PM
Filed under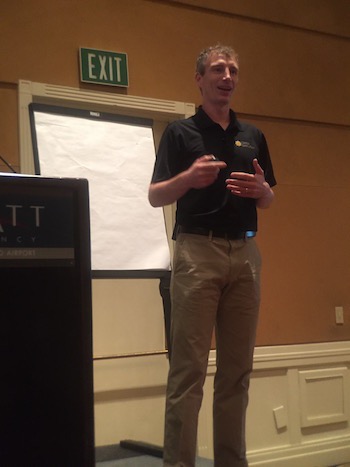 Open source projects can attract toxic personality types -- and well-meaning bad influences -- along with other problems that can send them off in the wrong directions. Red Hat's Dave Neary laid out some of the problems, and how to fix them, in a breezy talk here at the OPNFV Summit.
"Some people with the best of intentions engage in behaviors that harm the community," said Neary, a member of the open source and standards team at Red Hat Inc. (Nasdaq: RHAT) He added that he's engaged in some of this non-productive behavior himself at times.
Comms companies are increasingly participating in open source projects as they seek the agility and innovation required in the New IP economy. But they can encounter pitfalls along the way.
»
Printer-friendly version

819 reads

PDF version
More in Tux Machines
Android Leftovers

IPFire 2.25 - Core Update 151 released

IPFire 2.25 - Core Update 151 has been released. It comes with various package updates and a number of bug fixes in IPFire Location and security improvements in the SSH service. Since the rollout of our new location database, we have made various improvements on the software implementation to increase accuracy and speed. These are now all included in this Core Update. In addition to that, we now show whether an IP address is marked as an "anonymous proxy", "satellite provider" or "anycast" which helps debugging network issues and investigating attacks.

10 Useful Free and Open Source JavaScript Frameworks

JavaScript is an extremely popular prototype-based scripting language that is one of the core technologies of the World Wide Web. It provides for enhanced user interfaces and dynamic websites. JavaScript can, for example, check information entered into a form to ensure it conforms to what is expected by a database. JavaScript should not be confused with Java. While both are used to write computer software that can run inside a web browser, they are unrelated programming languages; Java offers a lot more than a programming language. There is a wide range of open source JavaScript frameworks that are available to help speed up the development process of websites. The purpose of this article is to help newcomers to JavaScript narrow the field to a manageable number to explore. The frameworks offer a wide range of features, such as Document Object Model querying and manipulation, Asynchronous JavaScript and XML (Ajax) request handling, and an interface widget library being a few examples.

How to define a product in the open source software supply chain

In the first article in this series, "Is open source a development model, business model, or something else?" I introduced the concept that open source is part of the supply chain for software products. But to truly understand open source as a supply chain, you must have a decent understanding of what a product is. A product can be thought of as a business, and as legendary business guru Peter Drucker said, "The purpose of business is to create and keep a customer." Drucker's statement means a business or product must be useful enough to pay for, or it will fail. Product differentiation is the thing that creates and retains customers. Even in the stone age of 1999, when I started my career, the concept of software products existed—you could go to a store and purchase boxed copies of Red Hat Linux on compact discs (though floppies were still very much in use). The idea of software products existing might sound like a joke, and it is, but in the 1940s and 1950s (when computers, as we know them, were created), software was not a component of value that was bought and sold. There was no market for software. You couldn't buy it, sell it, or access it online.