Wine Announcement
Submitted by Rianne Schestowitz on Friday 20th of November 2015 05:44:12 PM
Filed under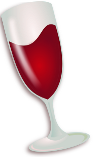 The Wine development release 1.8-rc1 is now available.
This is the first release candidate for the upcoming Wine 1.8. Please
give this release a good testing to help us make 1.8 as good as
possible.
What's new in this release (see below for details):
- Bug fixes only, we are in code freeze.
The source is available from the following locations:
http://dl.winehq.org/wine/source/1.8/wine-1.8-rc1.tar.bz2
http://mirrors.ibiblio.org/wine/source/1.8/wine-1.8-rc1.tar.bz2
»
Printer-friendly version

1992 reads

PDF version