After-dinner Mint? Stylish desktop finale released as last of the 17 line
Submitted by Roy Schestowitz on Thursday 14th of January 2016 04:46:44 PM
Filed under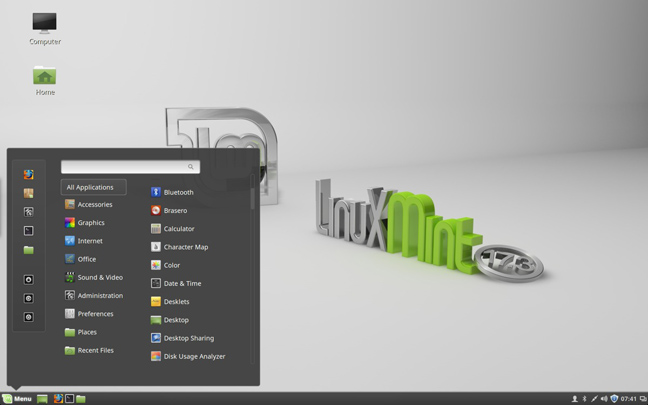 Linux Mint 17.3, recently released, will be the last release of the Mint 17 line.
It is the culmination of work that began two years ago, and the final edition of Mint based on Ubuntu 14.04 LTS .
With the stability of an Ubuntu LTS release as the base system, Linux Mint has had eighteen months of development time to focus on the things that make Mint, Mint.
»
Printer-friendly version

496 reads

PDF version
More in Tux Machines
Graphics: Wine-Vulkan, Valve Work on Drivers, and Mesa 17.3.5 "Emergency Release"

Red Hat and Fedora Leftovers

Linux Domination and Bill Gates Domination

The fail0verflow nerds got Linux running on the Switch by using code execution, though they didn't say how they got around Nintendo's own operating system and boot process to load up Linux.

Why Do We Let Unqualified Rich People Tell Us How To Live? Especially Bill Gates!

In 1975, at the age of 20, Bill Gates founded Microsoft with high school buddy Paul Allen. At the time Gary Kildall's CP/M operating system was the industry standard. Even Gates' company used it. But Kildall was an innovator, not a businessman, and when IBM came calling for an OS for the new IBM PC, his delays drove the big mainframe company to Gates. Even though the newly established Microsoft company couldn't fill IBM's needs, Gates and Allen saw an opportunity, and so they hurriedly bought the rights to another local company's OS — which was based on Kildall's CP/M system. Kildall wanted to sue, but intellectual property [sic] law for software had not yet been established. Kildall was a maker who got taken.

So Bill Gates took from others to become the richest man in the world. And now, because of his great wealth and the meritocracy myth, MANY PEOPLE LOOK TO HIM FOR SOLUTIONS IN VITAL AREAS OF HUMAN NEED, such as education and global food production.

Devices/Embedded: ADL, Axiomtek, and FUD From Proprietary Embedded Software Firms