KaOS 2016.01
Submitted by Rianne Schestowitz on Friday 15th of January 2016 08:57:04 AM
Filed under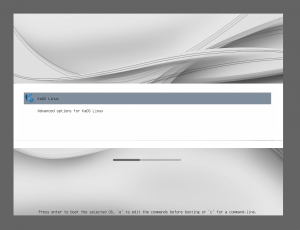 It is with great pleasure to present to you a first KaOS ISO for 2016.
As always with this rolling distribution you will find the very latest packages for the Plasma Desktop, this includes Frameworks 5.18.0, Plasma 5.5.3 and KDE Applications 15.12.1. Plasma 5.5 has brought new features in the Widget Explorer, expanded options in the Applications Launchers, new widgets including Color Picker & Disk Quota, restored support for legacy system tray icons, default font has moved to Noto and Desktop Tweaks for different handling of widgets plus option to disable the desktop toolbox.
Among the new Applications in 15.12 are Spectacle, the new screenshot capture program.
Many more are now fully ported to Frameworks 5 and are part of the stable tar release in their frameworks version.
»
Printer-friendly version

1257 reads

PDF version
More in Tux Machines
Zuul: Proven open-source continuous integration/continuous delivery

If you think Zuul is the Gatekeeper, demigod, and minion of the ancient Hittite god Gozer, then you're a Ghostbusters fan, too. But, if you're interested in continuous integration/continuous delivery (CI/CD) and not "human sacrifice, dogs, and cats living together... mass hysteria," then you want Zuul, OpenStack's open-source CI/CD platform. Zuul originally was developed for OpenStack CI testing. For years, OpenStack, the Infrastructure-as-a-Service (IaaS) cloud, got all the attention. Over time, people began to realize that as impressive as OpenStack was, the CI system behind it, which enabled contributors and users across many different organizations to work and develop quickly together across multiple projects, was impressive in its own right.

Smallest RK3399 hacker board yet ships at $129 with 4GB DDR4

FriendlyElec has launched a 100 x 64mm, $129 "NanoPC-T4" SBC that runs Android or Linux on a Rockchip RK3399 with 4G DDR4, native GbE, WiFi-ac, DP, HDMI 2.0, 0 to 80℃ support, and M.2 and 40-pin expansion. FriendlyElec has released its most powerful and priciest hacker board to date, which it promotes as being the smallest RK3399-based SBC on the market. The 100 x 64mm NanoPC-T4 opens with a $129 discount price with the default 4GB DDR4 and 16GB eMMC. Although that will likely rise in the coming months, it's still priced in the middle range of open spec RK3399 SBCs.

today's leftovers

Programming: GNU Parallel, Rust, Go

GNU Parallel 20180522 ('Great March of Return') has been released.

Always wanted to contribute to open-source projects but didn't know where to start? Every week we highlight some tasks from the Rust community for you to pick and get started!