GNOME 3 Is Soon Turning Five Years Old: How Are You Liking It?
Submitted by Roy Schestowitz on Sunday 17th of January 2016 03:46:14 PM
Filed under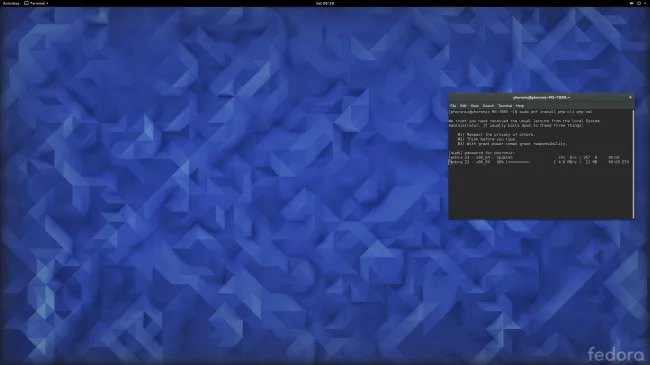 Come April it will be five years since the release of GNOME 3.0. The GNOME desktop has certainly evolved a lot since going back to GNOME 3.0, but what do you think of it?
I was wary of GNOME 3 at first, but after several releases, it's been running great and I'm back to using GNOME on many test systems at Phoronix. In fact, last year when switching from Ubuntu to Fedora on my most critical system, also marked the move back to using GNOME as my main desktop environment. Since GNOME 3.12 or so I've been quite happy with the experience and with GNOME 3.16~3.18 it feels really rock solid.
»
Printer-friendly version

685 reads

PDF version
More in Tux Machines
Turris MOX is a Modular & Open Source Router

A company from the Czech Republic is trying to raise money to bring a modular and open source router to the public. It has a number of features that can't be found in the current line up of routers available for purchase.

Openwashing: Intel, Apple, and Microsoft

The Several Faces of Intel Compilers [Ed: It says that this so-called 'article' is "sponsored", so IDG is now running ads as 'articles'. Not even pretense about whether it's journalism or not.]

FoundationDB Goes Open Source [Ed: "FoundationDB gave Apple a foothold in the crowded NoSQL database sector," it says and this is what this openwashing is all about. It's helping Apple in spreading its proprietary frameworks and surveillance 'clouds'.]

Linux Everywhere (Premium) [Ed: "Linux Everywhere," says longtime Microsoft propagandist, in service (IMHO) of the latest EEE strategy. Don't forget who's still in charge.]

Android Leftovers

An introduction to the GNU Core Utilities

These two collections of Linux utilities, the GNU Core Utilities and util-linux, together provide the basic utilities required to administer a Linux system. As I researched this article, I found several interesting utilities I never knew about. Many of these commands are seldom needed, but when you need them, they are indispensable. Between these two collections, there are over 200 Linux utilities. While Linux has many more commands, these are the ones needed to manage the basic functions of a typical Linux host.