Linux 3.5 Through Linux 4.4 Kernel Benchmarks: A 19-Way Kernel Showdown Shows Some Regressions
Submitted by Rianne Schestowitz on Friday 22nd of January 2016 09:43:12 PM
Filed under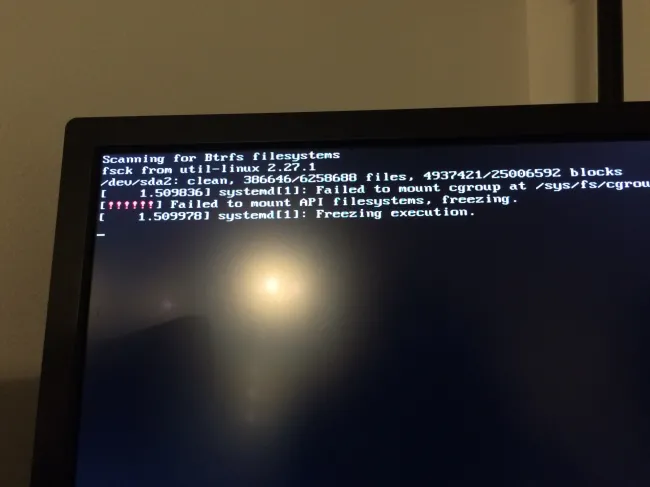 What better way to spend a cold Friday morning than looking at some kernel benchmarks, so up for your viewing pleasure today are benchmarks of every kernel major release going from the Linux 3.5 kernel up through the latest Linux 4.4 stable kernel release. All the tests were done on the same system and there are actually some interesting performance changes to note with these Linux kernel tests going back to the summer of 2012.
The system I used this week for carrying out this Linux 3.5 to Linux 4.4 kernel comparison was the Xeon E5-2687W v3 Haswell processor (10 cores plus Hyper Threading), MSI X99S SLI PLUS motherboard, 16GB of DDR4 memory, a PNY CS121 120GB solid-state drive, and AMD FirePro V7900 (Cayman) graphics card. All of the hardware was maintained the same throughout testing and each kernel was tested with its defaults as obtained from the Ubuntu Mainline Kernel PPA archive; so you can fetch from there if you are curious about any of the Kconfig and other defaults.
»
Printer-friendly version

834 reads

PDF version
More in Tux Machines
Red Hat: Ansible Tower, Patent Promise, and Shares Declining

Red Hat recently shared revealed its agentless automation platform is spreading among enterprises in APAC countries like Australia, China, India and Singapore. The company asserts its Ansible Tower helps enterprises cut through the complexities of modern IT environments with powerful automation capabilities that improve productivity and reduce downtime. "Today's business demands can mean even greater complexity for many organisations. Such dynamic environments can necessitate a new approach to automation that can improve speed, scale and stability across IT environments," says head of APAC office of technology at Red Hat, Frank Feldmann.

Red Hat, the world's biggest open source company, has expanded its commitment on patents, which had originally been not to enforce its patents against free and open source software.

Open-source software provider Red Hat has revised its Patent Promise, which was initially intended to discourage patent aggression against free and open-source software. The expanded version of the defensive patent aggregation scheme extends the zone of non-enforcement to all of Red Hat's patents and all software under "well-recognised" open-source licenses. In its original Patent Promise in 2002, Red Hat said software patents are "inconsistent with open-source and free software".

Add-on board expands i.MX6 UL SBC

MYIR released an add-on board for its Linux-driven, i.MX6 UL-based MYS-6ULX SBC that adds a second LAN port, plus CAN, RS485, camera, audio, and RTC. In April, MYIR released a Linux-powered MYS-6ULX SBC, which was notable for being available in two different versions using NXP's low power, Cortex-A7 i.MX6 UltraLite (UL) or the more affordable, and almost identical i.MX6 ULL SoC. Now, MYIR has released an "MYB-6ULX Expansion Board" designed to stack onto either model. The $21.20 accessory adds a second 10/100 Ethernet port to the MYS-6ULX, as well as new CAN, RS485, audio, micro-USB, RTC, and camera functions.

Hardware: PocketBeagle, Purism Librem 5, Aaeon Embedded PCs

Part of the appeal of Android is its openness, at least compared to iOS. But, let's face it. Google isn't running a charity and Android's direction will always be aligned with Google's business. There will always be a large hole to be filled as far as a truly open, truly free, truly secure, and truly private phone goes. And Purism, the people behind the more or less successful Librem laptops, is diving into that space with the Librem 5 phone, and it is taking open source communities along for the ride.

Aaeon unveiled two rugged embedded PCs that run Intel's 6th or 7th Gen CPUs. The Linux-friendly "BOXER-6640M" stands out with 9x GbE and 8x USB 3.0 ports. Aaeon's BOXER-6640M and Boxer-6640 build on the same fanless design, ruggedization features, and support for 6th Gen Skylake and 7th Gen Kaby Lake processors as its recent Boxer-6639. Here, we'll focus primarily on the Linux-supported, networking oriented BOXER-6640M, which features nine Gigabit Ethernet ports. Farther below, we briefly cover the similar, but dual GbE, Boxer-6640, which is listed only with Windows support. Both computers measure 264.2 x 186.2 x 96.4mm.

Finding the Mainframers of the Future Through Open Source Ecosystem Development

Speak the word "mainframe" to many millennial techies, and the first things that likely come to mind are in the form of grainy sepia photos of floor-to-ceiling, wall-to-wall computers with big spinning tapes. But that's far from the reality of the modern mainframe. Imagine instead up to 240 10-core, 5.2ghz processors, 32TB of RAIM (redundant array of independent memory), hardware-based encryption, and fully hot-swappable hardware components. Those are the specs of the newly released IBM z14 – a single machine that could replace the computing resources of an average corporate data center with room to spare.