ARM's Cortex A32 is a tiny CPU for wearables and Raspberry Pi-like boards
Submitted by Rianne Schestowitz on Tuesday 23rd of February 2016 05:50:22 PM
Filed under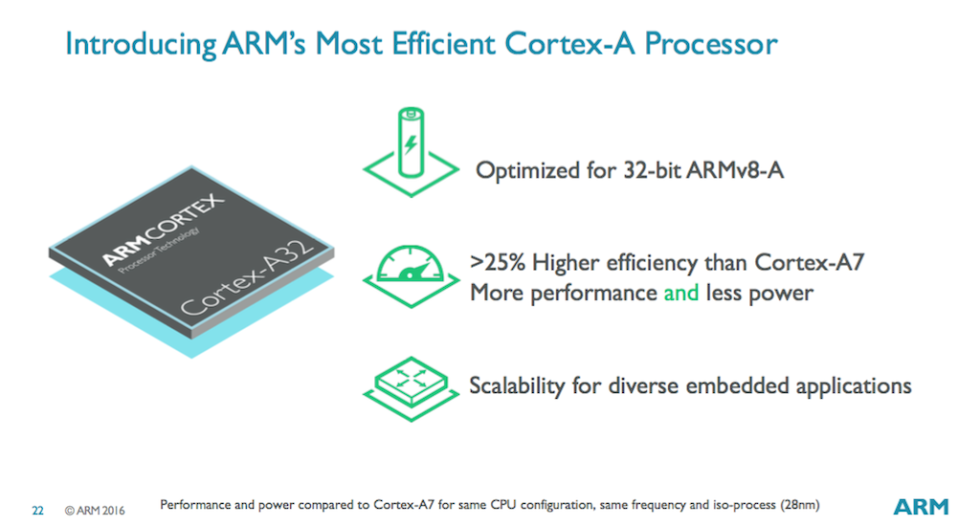 ARM's Cortex CPU core designs are widely used by all kinds of chipmakers who don't want to create their own ARM CPU designs from scratch, so it's important to pay attention when the company announces a new one. The ones we see the most often around here are the mainstream 64-bit cores for smartphones and tablets—the high-end Cortex A72 and A57 and the mid-end Cortex A53—but ARM produces a variety of smaller designs for ultra-low-power and embedded applications, too.
More in Tux Machines
Lennart Poettering Announces systemd 231 Init System [sic] for GNU/Linux Distributions

Today, July 25, 2016, systemd creator Lennart Poettering has proudly announced the release and general availability of the systemd 231 init system for major GNU/Linux OSes. Bringing lots of fixes and numerous additions, systemd 231 is now the most advanced version of the modern and controversial init system that has been adopted in the last few years by more and more Linux kernel-based operating systems, including Fedora, Ubuntu, Arch Linux, openSUSE, Red Hat Enterprise Linux, and many others.

OpenBSD 6.0 to be released September 1, 2016

Theo de Raadt (deraadt@) has updated the (in-progress) OpenBSD 6.0 release page to indicate that release will occur earlier than is usual...

Conversation With Jonathan Thomas of OpenShot

I think my initial fascination with Linux was based on rebuilding all my old, broken computers laying around my office/garage. I was having a ton of fun, pulling components out of old computers, installing various distros and seeing what worked/didn't work. And then there was the 3D desktop cube, which was pretty awesome! Pretty soon I had built my kids their own computer, with "safe" web-browsing, education games, etc. It was many months of playing around with Linux before I learned about Python and started slowly getting more into the programming side of things.

OpenMandriva Lx 3.0 Linux Is Coming Soon with Mesa 3D 12.0, Latest KDE Goodies

Kate Lebedeff from the OpenMandriva project informed Softpedia about the availability of the first Release Candidate (RC) development build of the upcoming OpenMandriva Lx 3.0 operating system.