Canonical chooses Linux-friendly Dragonboard 410c as Ubuntu Core on ARM 64-bit reference
Submitted by Rianne Schestowitz on Wednesday 24th of February 2016 07:40:33 PM
Filed under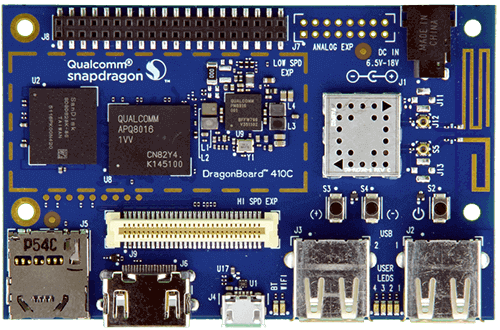 Linux is such a wonderful kernel for many reasons, but I find its adaptability to be the tops. You can get an operating system based on the kernel running on such a broad range of hardware -- something Microsoft can only dream about with its venerable Windows.
Even though Linux can run on damn-near anything, it is beneficial for developers to have a reference platform to use for creating. Of course, they can always expand from that jumping point. Today, Canonical announces that the Dragonboard 410c hardware will be the reference platform for Ubuntu Core on ARM 64-bit.
Also: Dragonboard 410c Is the New Reference Platform for Ubuntu Core on ARM 64-Bit
»
Printer-friendly version

1029 reads

PDF version
More in Tux Machines
Samsung Linux on DeX beta hands-on: do almost everything on your phone

Among the various Linux on Android implementations, Samsung's Linux on DeX definitely looks the most polished ready to use solution, even if it's still in beta form. Although it uses a two-year-old version of Ubuntu, there is already a lot that can be done from that. Plus, just like Android users, Linux users can be pretty creative and only time will tell if they'll be able to use Linux on DeX to make almost any Linux distro work.

Android Leftovers

A Look At The GCC 9 Performance On Intel Skylake Against GCC 8, LLVM Clang 7/8

With GCC 9 embarking upon its third stage of development where the focus ships to working on bug/regression fixes in preparation for releasing the GCC 9.1 stable compiler likely around the end of Q1'2019, here is a fresh look at the GCC 9 performance with its latest development code as of this week compared to GCC 8.2.0 stable while using an Intel Core i9 7980XE test system running Ubuntu Linux. For good measure are also fresh results from LLVM Clang 7.0 stable as well as LLVM Clang 8.0 SVN for the latest development state of that competing C/C++ open-source compiler.

This under-$6 SBC runs Linux on RISC-V based C-SKY chip

Hangzhou C-SKY has launched a "C-SKY Linux Development Board" for $5.60 and up, featuring a RISC-V derived, 574MHz C-SKY GX6605S CK610M SoC, 64MB DDR2, an HDMI port, and 2x USB 2.0 ports. Last month, Hangzhou C-SKY Microsystems Co. announced Linux 4.20~5.0 kernel support for its new RISC-V based C-SKY CK810 SoC design. Now, Hangzhou C-SKY has launched a development board that runs Linux on a similar CK610M SoC. The C-SKY Linux Development Board sells for 39-40 Yuan ($5.60 to $7.05) on Taobao and $19.50 to $21.50 on AliExpress.