Canonical chooses Linux-friendly Dragonboard 410c as Ubuntu Core on ARM 64-bit reference
Submitted by Rianne Schestowitz on Wednesday 24th of February 2016 07:40:33 PM
Filed under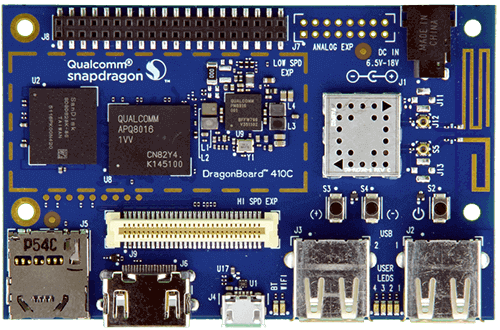 Linux is such a wonderful kernel for many reasons, but I find its adaptability to be the tops. You can get an operating system based on the kernel running on such a broad range of hardware -- something Microsoft can only dream about with its venerable Windows.
Even though Linux can run on damn-near anything, it is beneficial for developers to have a reference platform to use for creating. Of course, they can always expand from that jumping point. Today, Canonical announces that the Dragonboard 410c hardware will be the reference platform for Ubuntu Core on ARM 64-bit.
Also: Dragonboard 410c Is the New Reference Platform for Ubuntu Core on ARM 64-Bit
More in Tux Machines
Android Leftovers

Having guided you through the not-all-that-straightforward process of switching from Android to iOS, we're back to tell you how to go in the opposite direction. (Make your mind up will you?) Going from Apple-powered devices to Google's platform is either ridiculously easy or rather taxing, depending on your current setup.

This week, the first beta for Nova Launcher 5.2 arrived on Google Play. Along with some minor fixes and performances improvements, the latest update adds customizable notification dots to the launcher. You can decide where on the app icon they will appear and how large they will be. And just like the real dots, Nova Launcher's notification dots will match the color scheme of the app icon they appear on.

Running commands on Linux seems so complicated for the layman that it may as well be a foreign language. But for the die-hard terminal users, or for those who are just curious about the Linux experience, there's a new Android launcher that gives your home screen a command line makeover.

Industry sits at 3.2 Billion smartphones in use globally. 4 out of 5 smartphones in use has some version of Android on it, the rest are iPhones (lots of older iPhones still in circulation, Apple's installed base is significantly higher than its actual sales percentage, as the device has a passionate following). I now separate out also the pure Google Android ie Play Store capable devices and the forked Androids ie AOSP (Android Open Source Platform) devices mostly out of China and India. They are 32% of all Androids in use, so 26% of all smartphones in use.

Andy Rubin's Essential firm just posted another teaser image of a new smartphone that it will unveil on May 30.

The Past Week in Techrights (Still on Holiday)

First LXQt-Based Lubuntu 17.10 Daily Builds Surface, Here's What It Looks Like

Lubuntu maintainer Simon Quigley was kind enough to inform us today about the availability of the first daily build ISO images of the upcoming Lubuntu 17.10 (Artful Aardvark) operating system, with the LXQt desktop environment. The development cycle of the Ubuntu 17.10 (Artful Aardvark) operating system started two months ago when Canonical's Adam Conrad gave the green light to all maintainers and developers involved in the project, and the first Alpha milestone is now approaching fast.

Mageia 6 RC

After being challenged by set backs, Mageia 6 is out in release candidate form.

Everyone at Mageia is exceptionally happy and proud to announce the availability of the release candidate of Mageia 6. It has been a long road, but we are at the last step and Mageia 6 is just around the corner.

"The extra time that this release has taken has had one huge benefit: the number of new and exciting additions to Mageia is staggering. They include the now far more mature Plasma to replace KDE4, the DNF and COPR stacks to supplement urpmi, big updates to the major desktops and the other large stacks and components, and lots of package updates," said Donald Stewart in the release announcement.