Canonical chooses Linux-friendly Dragonboard 410c as Ubuntu Core on ARM 64-bit reference
Submitted by Rianne Schestowitz on Wednesday 24th of February 2016 07:40:33 PM
Filed under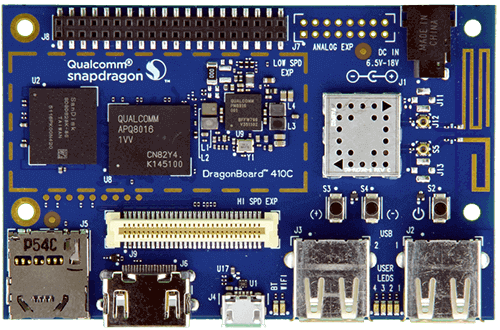 Linux is such a wonderful kernel for many reasons, but I find its adaptability to be the tops. You can get an operating system based on the kernel running on such a broad range of hardware -- something Microsoft can only dream about with its venerable Windows.
Even though Linux can run on damn-near anything, it is beneficial for developers to have a reference platform to use for creating. Of course, they can always expand from that jumping point. Today, Canonical announces that the Dragonboard 410c hardware will be the reference platform for Ubuntu Core on ARM 64-bit.
Also: Dragonboard 410c Is the New Reference Platform for Ubuntu Core on ARM 64-Bit
»
Printer-friendly version

1002 reads

PDF version
More in Tux Machines
Android Leftovers

Huawei P Smart review

With a decent 18:9 screen, the P Smart is a fine Android phone that should appeal to anyone looking for a cheap contract phone. However, the fact it's so similar to the Honor 9 Lite (which costs £100 less when bought SIM-free) makes it hard to recommend, especially as the Honor has a couple of extra features – dual SIM and a second front camera – which the Huawei lacks.

​Bogus Linux vulnerability gets publicity

I am so sick and tired of crap security news about Android and Linux. In the latest example, GoSecure claims it's discovered Chaos: a Stolen Backdoor Rising Again. Yeah. Right. Let's look closer. First, we have a neat name. Can't have a security bug these days without giving it a sexy name. But, what is it really? Well, it requires the attacker to break into the target system by "brute-forcing SSH credentials". Wait. What? To get this you need someone to log in to your server!?

The best Linux web hosting services of 2018

Linux hosting is everywhere. Whether you're looking for a simple shared hosting account or a powerful dedicated server, the chances are that you'll be offered a Linux-based option first. In many cases, you might not care. If your hosting needs are simple, you'll probably choose an account based on the allocated web space, bandwidth and similar features – the operating system is so far down most people's priority list that often it's not even mentioned in comparison tables.