The MX Toolbox: Big Tools for a Little Distro
Submitted by Roy Schestowitz on Friday 11th of March 2016 10:24:01 AM
Filed under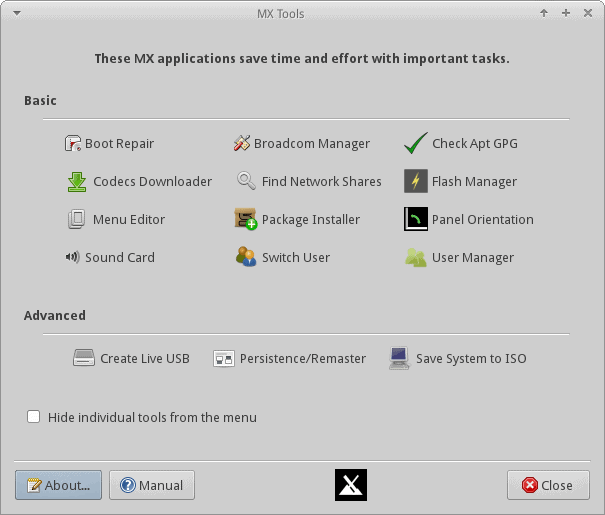 I very much like MX Tools. They are a handy, refreshing addition to the distribution, and they allow users who are not very tech savvy to solve some common problems. True, fixing audio and network drivers is hardly the first thing you want to do when you log in, but then, codecs and shares are an absolute must.
Overall, MX Tools work quite well. The GUI isn't perfect though. It can be visually much nicer, the advanced tools need some rethinking and rework, and I'd like to see more features added, with aided step-by-step wizards that would help new users get comfortable with the distro, and quickly. Anyhow, I warmly recommend you try MX Linux, and then sample from its unique fruit. I believe you will find the experience pleasing, and perhaps we will see more endeavors of this kind crop across the distro phase-space.
»
Printer-friendly version

987 reads

PDF version
More in Tux Machines
FoundationDB Source Code Shared

Apple has just released a new open source project on Github. FoundationDB is described as "a distributed database designed to handle large volumes of structured data across clusters of commodity servers". The database system is focused on performance, scalability and fault-tolerance. Meaning projects that use the database for their backend are faster and less expensive to maintain.

​Learn to use GitHub, ​GitHub Releases Atom 1.26

The most popular open-source development site in the world is GitHub. It's used by tens of millions of developers to work on over 80 million projects. It's not just a site where people use Linus Torvalds' Git open-source distributed version control system. It's also an online home for collaboration, a sandbox for testing, a launchpad for deployment, and a platform for learning new skills. The GitHub Training Team has now released an app, GitHub Learning Lab, so you can join the programming party. GitHub Learning Lab is not a tutorial or webcast. It's an app that gives you a hands-on learning experience within GitHub. According to GitHub, "Our friendly bot will take you through a series of practical, fun labs that will give you the skills you need in no time--and share helpful feedback along the way."

Atom 1.26 has been released on our stable channel and includes GitHub package improvements, fuzzy-finder support for Teletype and file system watcher improvements.

GitHub announced the release of the Atom 1.26 open-source and cross-platform hackable text editor for Linux, macOS, and Windows platforms with more improvements and bug fixes. In Atom 1.26, the GitHub package received various improvements and new features, among which we can mention the ability of the 's Git pane to display a read-only list of recent commits for quick reference, and support for storing your GitHub username and password credentials in the Git authentication dialog.

Games Leftovers

It seems every week there's a new deal going on you don't want to miss! Right now Humble Store is offering free copies of Satellite Reign and other stores also have sales on. The current Humble Monthly will also allow you to unlock the recently released Linux port of RUINER along with Kerbal Space Program.

Buried in the GOG forum, a staff member has noted that GOG accounts have new privacy options ahead of the release of their own version of user profiles. It seems GOG are continuing to become a little like Steam as time goes on, with their Galaxy client that still isn't on Linux (and isn't a priority last we heard) and now this.

It seems the developer of Blade Symphony [Steam] has had a case of feature-creep and so the next update that was due with Linux support is going to be late.

Linux and Linux Foundation

The Broadcom VC5 driver stack is being renamed to V3D and developer Eric Anholt is looking at merging it into the mainline Linux kernel. The VC5 DRM/KMS and Mesa code has been for supporting the next-generation Broadcom VideoCore 5 graphics hardware that's only now beginning to appear in some devices, well, it seems one device so far. Though as I pointed out a few months back, there's already "VC6" activity going on too as the apparent successor to VC5 already being in development.

Keynotes Announced for Automotive Linux Summit & OS Summit Japan [Ed: "Senior Software Engineer, Microsoft" in there; LF has once again let Microsoft infiltrate Linux events; in the words of Microsoft's chief evangelist, "I've killed at least two Mac conferences. […] by injecting Microsoft content into the conference, the conference got shut down. The guy who ran it said, why am I doing this?"]

Automotive Linux Summit connects those driving innovation in automotive Linux from the developer community with the vendors and users providing and using the code, in order to propel the future of embedded devices in the automotive arena.