The MX Toolbox: Big Tools for a Little Distro
Submitted by Roy Schestowitz on Friday 11th of March 2016 10:24:01 AM
Filed under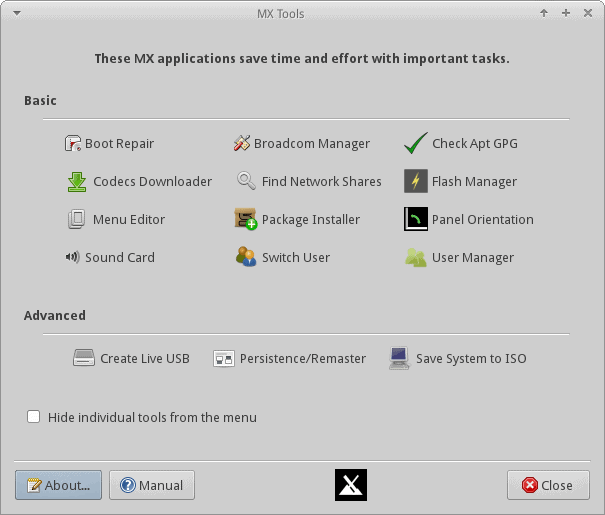 I very much like MX Tools. They are a handy, refreshing addition to the distribution, and they allow users who are not very tech savvy to solve some common problems. True, fixing audio and network drivers is hardly the first thing you want to do when you log in, but then, codecs and shares are an absolute must.
Overall, MX Tools work quite well. The GUI isn't perfect though. It can be visually much nicer, the advanced tools need some rethinking and rework, and I'd like to see more features added, with aided step-by-step wizards that would help new users get comfortable with the distro, and quickly. Anyhow, I warmly recommend you try MX Linux, and then sample from its unique fruit. I believe you will find the experience pleasing, and perhaps we will see more endeavors of this kind crop across the distro phase-space.
More in Tux Machines
More From Red Hat Summit

Android Leftovers

Ubuntu 16.10 Alpha 1 to Come Only in Ubuntu MATE, Ubuntu Kylin & Lubuntu Flavors

In only two days from the moment of writing this article, we will be able to get a very early taste of the upcoming Ubuntu 16.10 (Yakkety Yak) operating system, as the first Alpha build should be released, as planned, on June 30, 2016.

Lenovo and Red Hat advance partnership with telco push

Two Triangle tech titans are teaming up to create cloud solutions for the changing telco space: Lenovo and Red Hat. It's not their first collaboration, says Brian Connors, vice president of next generation IT and business development in Lenovo's Research Triangle Park-based Data Center Group. Red Hat even invested in Lenovo's RTP executive briefing center, where its technology is currently "displayed prominently as customers come in."