The MX Toolbox: Big Tools for a Little Distro
Submitted by Roy Schestowitz on Friday 11th of March 2016 10:24:01 AM
Filed under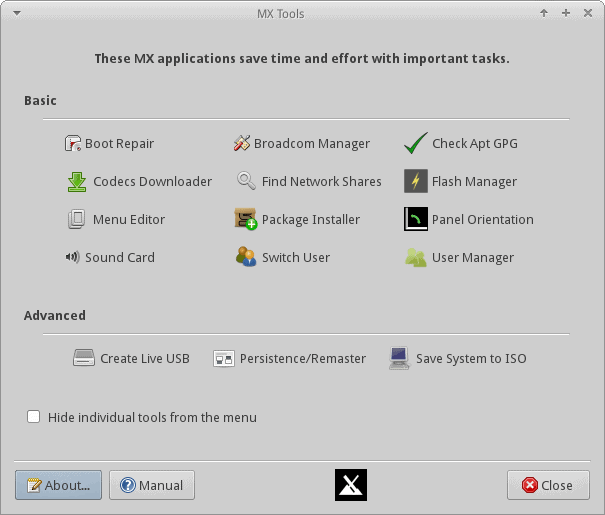 I very much like MX Tools. They are a handy, refreshing addition to the distribution, and they allow users who are not very tech savvy to solve some common problems. True, fixing audio and network drivers is hardly the first thing you want to do when you log in, but then, codecs and shares are an absolute must.
Overall, MX Tools work quite well. The GUI isn't perfect though. It can be visually much nicer, the advanced tools need some rethinking and rework, and I'd like to see more features added, with aided step-by-step wizards that would help new users get comfortable with the distro, and quickly. Anyhow, I warmly recommend you try MX Linux, and then sample from its unique fruit. I believe you will find the experience pleasing, and perhaps we will see more endeavors of this kind crop across the distro phase-space.
»
Printer-friendly version

966 reads

PDF version
More in Tux Machines
today's lefftovers

Remember the days of 3GP videos? Gone are the days when we had to convert a video to low-quality file formats to view it on our mobile. Nowadays, video players take advantage of new generation hardware in our smartphones and can play almost all video file formats.

OSS Leftovers

Security: France, Munich, 'Smart' Meters, MeltdownPrime and SpectrePrime

How Linux became my job

I've been using open source since what seems like prehistoric times. Back then, there was nothing called social media. There was no Firefox, no Google Chrome (not even a Google), no Amazon, barely an internet. In fact, the hot topic of the day was the new Linux 2.0 kernel. The big technical challenges in those days? Well, the ELF format was replacing the old a.out format in binary Linux distributions, and the upgrade could be tricky on some installs of Linux.