KaOS 2016.03
Submitted by Rianne Schestowitz on Monday 14th of March 2016 09:42:33 AM
Filed under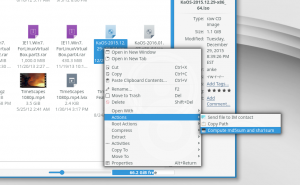 KaOS is proud to announce the availability of the March release of a new stable ISO.
The Plasma Desktop includes Frameworks 5.20.0, Plasma 5.5.5 and KDE Applications 15.12.2. A few enhancements to the Plasma 5 experience have been added, these are KaOS specific extras.
You now have the option to calculate the md5sum from any file from the Dolphin service menu.
Since the kf5 move there has not been a fully working GUI for user management, there is one added now for KaOS, you will find it under system settings, account details.
From there you can create new users, change existing user(s) role or delete a user. Also added it is a KCM for locale/language settings.
»
Printer-friendly version

2607 reads

PDF version
More in Tux Machines
Chrome OS may soon be able to run Linux applications in a container

Even though Chrome OS is based on Linux (Gentoo Linux, to be exact), you can't run traditional desktop Linux applications. One solution to this problem is Crouton, a script that sets up a chroot of Ubuntu or Debian Linux on top of Chrome OS. While this does allow many people to use Chrome OS who otherwise couldn't, it's a hacky solution and requires enabling Developer Mode (which turns off most of Chrome OS' security features). A new commit on the Chromium Gerrit has come to light, with the name "New device policy to allow Linux VMs on Chrome OS." The specific code adds a 'Better Together' menu in the Chrome OS settings, and allows IT administrators to turn the feature on or off. Of course, the big news is that Chrome OS will almost certainly support running Linux applications at some point. That opens up a huge range of software, from open-source favorites like GIMP and LibreOffice, to Linux-compatible Steam games like Civilization V and Rocket League. Potentially, users could even install Wine to run some Windows programs.

Android Leftovers

GNOME Shell vs. KDE Plasma Graphics Tests On Wayland vs. X.Org Server

A premium member this week had requested some benchmarks of openSUSE Tumbleweed when looking at the performance of KDE Plasma vs. GNOME Shell in some open-source graphics/gaming tests while also looking at the Wayland vs. X.Org Server performance. With KDE Plasma 5.12 that openSUSE Tumbleweed has picked up, there is much better Wayland session support compared to previous releases. While KDE developers aren't yet ready to declare their Wayland session the default, in my experience so far it's been working out very well but still routinely will find application crashes in Kate and the like when testing under the KWin's Wayland compositor.

Stable kernels 4.15.6, 4.14.22, 4.9.84, 4.4.118 and 3.18.96