KaOS 2016.03
Submitted by Rianne Schestowitz on Monday 14th of March 2016 09:42:33 AM
Filed under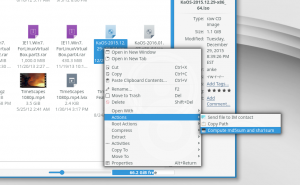 KaOS is proud to announce the availability of the March release of a new stable ISO.
The Plasma Desktop includes Frameworks 5.20.0, Plasma 5.5.5 and KDE Applications 15.12.2. A few enhancements to the Plasma 5 experience have been added, these are KaOS specific extras.
You now have the option to calculate the md5sum from any file from the Dolphin service menu.
Since the kf5 move there has not been a fully working GUI for user management, there is one added now for KaOS, you will find it under system settings, account details.
From there you can create new users, change existing user(s) role or delete a user. Also added it is a KCM for locale/language settings.
More in Tux Machines
today's howtos

UKSM Is Still Around For Data Deduplication Of The Linux Kernel

Several years back we wrote about Ultra Kernel Samepage Merging (UKSM) for data de-duplication within the Linux kernel for transparently scanning all application memory and de-duping it where possible. While the original developer is no longer active, a new developer has been maintaining the work and continues to support it on the latest Linux kernel releases.

Why Dell's gamble on Linux laptops has paid off

The whole juggernaut that is now Linux on Dell started as the brainchild of two core individuals, Barton George (Senior Principal Engineer) and Jared Dominguez (OS Architect and Linux Engineer). It was their vision that began it all back in 2012. It was long hours, uncertain futures and sheer belief that people really did want Linux laptops that sustained them. Here is the untold story of how Dell gained the top spot in preinstalled Linux on laptops. Where do you start when no one has ever really even touched such a concept? The duo did have some experience of the area before. George explained that the XPS and M3800 Linux developer's laptops weren't Dell's first foray into Linux laptops. Those with long memories may remember Dell testing the waters for a brief while by having a Linux offering alongside Windows laptops. By their own admission it didn't work out. "We misread the market," commented George. Also: New Entroware Aether Laptop for Linux Powered with Ubuntu

A Short MATE Desktop 1.17 Review in February 2017

MATE 1.17 is a testing release, it has no official announcement like 1.16 stable release (odd = unstable, even = stable). But what made me interested is because Ubuntu MATE 17.04 includes it by default so I write this short review. The most fundamental news is about MATE Desktop is now completely ported to GTK+3 leaving behind GTK+2. You may be interested seeing few changes and I have tried Ubuntu MATE 17.04 Alpha 2 to review MATE 1.17 below. Enjoy MATE 1.17! Also: What's up with the hate towards Freedesktop?