KaOS 2016.03
Submitted by Rianne Schestowitz on Monday 14th of March 2016 09:42:33 AM
Filed under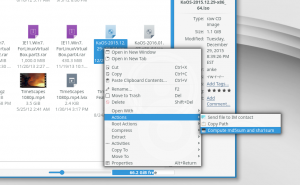 KaOS is proud to announce the availability of the March release of a new stable ISO.
The Plasma Desktop includes Frameworks 5.20.0, Plasma 5.5.5 and KDE Applications 15.12.2. A few enhancements to the Plasma 5 experience have been added, these are KaOS specific extras.
You now have the option to calculate the md5sum from any file from the Dolphin service menu.
Since the kf5 move there has not been a fully working GUI for user management, there is one added now for KaOS, you will find it under system settings, account details.
From there you can create new users, change existing user(s) role or delete a user. Also added it is a KCM for locale/language settings.
»
Printer-friendly version

2838 reads

PDF version
More in Tux Machines
GCC vs. LLVM Clang vs. AOCC Compilers On AMD Threadripper

Given recent improvements to AMD Zen (znver1) with LLVM, the new AMD AOCC 1.2 compiler release, and GCC 8.1 having premiered just weeks ago, here is a fresh look at the performance of six different C/C++ code compilers when testing the performance of the resulting binaries on an AMD Threadripper 1950X system.

LibreOffice 6.1 Beta Arrives Next Week for Second Bug Hunting Session on May 28

Now that the first bug hunting session, which took place last month on April 27 for the alpha milestone, was a success leading to 91 bugs (8 of them marked as critical and 4 already fixed) being reported by those who attended the event, it's time for a second bug hunting session at the end of May to discover and squash more of those pesky bugs and issues that may block the release of LibreOffice 6.1.

Canonical Releases Major Kernel Updates for Ubuntu 17.10, 16.04 LTS & 14.04 LTS

After releasing a kernel update for the Ubuntu 18.04 LTS (Bionic Beaver) operating system series to mitigate the recently disclosed Spectre Variant 4 (CVE-2018-3639) security vulnerability, Canonical now released new kernel versions for Ubuntu 17.10 (Artful Aardvark), Ubuntu 16.04 LTS (Xenial Xerus), and Ubuntu 14.04 LTS (Trusty Tahr) operating system series and their official derivatives.

Open source image recognition with Luminoth

Computer vision is a way to use artificial intelligence to automate image recognition—that is, to use computers to identify what's in a photograph, video, or another image type. The latest version of Luminoth (v. 0.1), an open source computer vision toolkit built in Python and using Tensorflow and Sonnet, offers several improvements over its predecessor.