Library Freedom Project and Werner Koch are 2015 Free Software Awards winners
Submitted by Roy Schestowitz on Sunday 20th of March 2016 09:57:40 PM
Filed under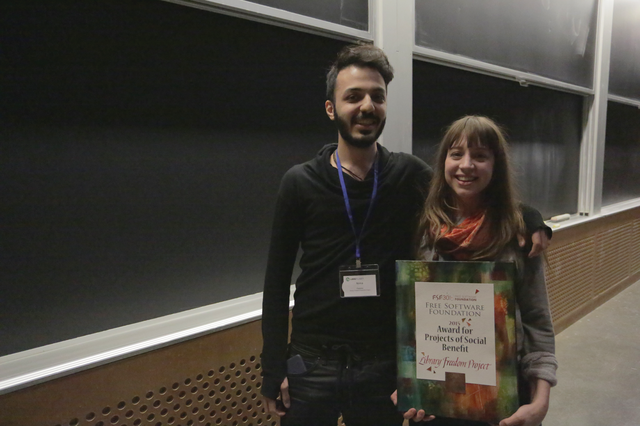 The Award for Projects of Social Benefit is presented to a project or team responsible for applying free software, or the ideas of the free software movement, in a project that intentionally and significantly benefits society in other aspects of life. This award stresses the use of free software in the service of humanity.
This year, it was given to the Library Freedom Project, a partnership among librarians, technologists, attorneys, and privacy advocates which aims to make real the promise of intellectual freedom in libraries. By teaching librarians about surveillance threats, privacy rights and responsibilities, and digital tools to stop surveillance, the project hopes to create a privacy-centric paradigm shift in libraries and the local communities they serve. Notably, the project helps libraries launch Tor exit nodes. Project founders Alison Macrina and chief technology wizard Nima Fatemi accepted the award.
More in Tux Machines
SF's Elections Commission asks mayor to put $4M toward open source voting system

While the Elections Commission may be among the least followed city bodies, the seven members are playing a critical role in determining whether San Francisco will begin to use an open-source voting system. For years, open-source voting advocates have called on San Francisco officials to part ways with traditional voting machine companies. Open-source voting is widely considered the best defense to voter fraud with the added benefits of cost savings and flexibility. Much to chagrin of these advocates, The City has continued to sign contracts with nonopen-source voting companies. While no open-source voting system has been deployed elsewhere, other jurisdictions are currently working on it, such as Travis County, Texas. After The City allocated $300,000 in the current fiscal year to move San Francisco toward an open-source voting system, the effort has gotten off to a slower-than-expected start. Advocates worry if funding isn't committed to building out such a system, the effort will face further delays. [Ed: Microsoft a threat]

KaOS 2017.02

KaOS is proud to announce the availability of the February release of a new stable ISO. The policy is, once a first pacman -Syu becomes a major update, it is time for a new ISO so new users are not faced with a difficult first update. With the exceptional large amounts of updates the last four to five weeks a new ISO is needed a bit sooner than usual. As always with this rolling distribution, you will find the very latest packages for the Plasma Desktop, this includes Frameworks 5.31.0, Plasma 5.9.2, KDE Applications 16.12.2 & not yet released ports of KDE Applications. All built on Qt 5.8.0.

Linux Kernel News

Games for GNU/Linux

Something I had been meaning to check out for a while is how to easily record videos of games, but have my microphone and the game audio in two different tracks. It turns out, it's actually quite easy.

After some delays, adventure game Night in the Woods [itch.io, Steam, Official Site] has officially landed with day-1 Linux support and it looks very good.

Dungeons 3 [Steam] has been officially announced by Kalypso Media & Realmforge and like Dungeons 2, it will support Linux!