Library Freedom Project and Werner Koch are 2015 Free Software Awards winners
Submitted by Roy Schestowitz on Sunday 20th of March 2016 09:57:40 PM
Filed under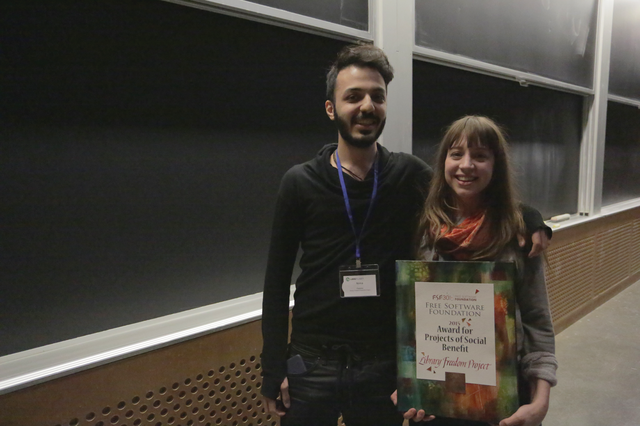 The Award for Projects of Social Benefit is presented to a project or team responsible for applying free software, or the ideas of the free software movement, in a project that intentionally and significantly benefits society in other aspects of life. This award stresses the use of free software in the service of humanity.
This year, it was given to the Library Freedom Project, a partnership among librarians, technologists, attorneys, and privacy advocates which aims to make real the promise of intellectual freedom in libraries. By teaching librarians about surveillance threats, privacy rights and responsibilities, and digital tools to stop surveillance, the project hopes to create a privacy-centric paradigm shift in libraries and the local communities they serve. Notably, the project helps libraries launch Tor exit nodes. Project founders Alison Macrina and chief technology wizard Nima Fatemi accepted the award.
More in Tux Machines
Android N's navigation buttons could get a face-lift

New Zealand vs Wales Live Streaming

Android Leftovers

IT runs on the cloud, and the cloud runs on Linux. Any questions?

A recent survey by the Uptime Institute of 1,000 IT executives found that 50 percent of senior enterprise IT executives expect the majority of IT workloads to reside off-premise in cloud or colocation sites in the future. Of those surveyed, 23 percent expect the shift to happen next year, and 70 percent expect that shift to occur within the next four years.

Security Leftovers

In Teardrop Attack, fragmented packets that are sent in the to the target machine, are buggy in nature and the victim's machine is unable to reassemble those packets due to the bug in the TCP/IP fragmentation.

Organizations with high rates of code deployments spend half as much time fixing security issues as organizations without such frequent code updates, according to a newly released study. In its latest annual state-of-the-developer report, Devops software provider Puppet found that by better integrating security objectives into daily work, teams in "high-performing organizations" build more secure systems. The report, which surveyed 4,600 technical professionals worldwide, defines high IT performers as offering on-demand, multiple code deploys per day, with lead times for changes of less than one hour. Puppet has been publishing its annual report for five years.

Over half of the world's most popular online services have misconfigured servers which could place users at risk from spoof emails, researchers have warned. According to Swedish cybersecurity firm Detectify, poor authentication processes and configuration settings in servers belonging to hundreds of major online domains are could put users at risk of legitimate-looking phishing campaigns and fraudulent emails.