Go nuts, brother: Ubuntu 16.04 beta – no more auto data-spaffing
Submitted by Rianne Schestowitz on Tuesday 29th of March 2016 07:10:18 PM
Filed under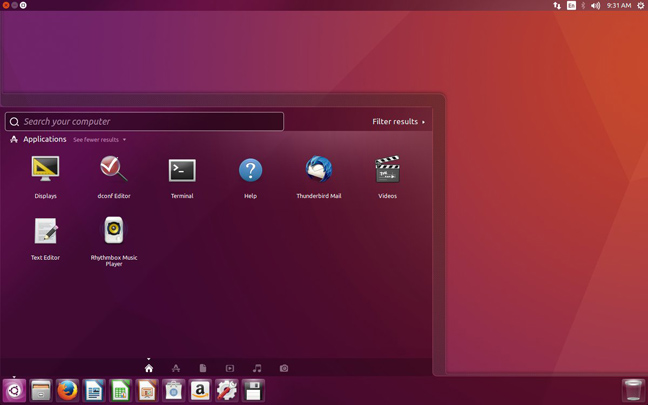 There's still a few weeks to go and this beta definitely has some rough edges, but Ubuntu 16.04 is shaping up to be an excellent release, particularly from an LTS stability standpoint. LTS releases always have to find a balance between incorporating the best of what's new with the need to support those features and apps for five years.
Leaving Unity 8 out of it means that Ubuntu users who just want stability can wait out the transition to Unity 8 with a stable system that still stays relatively up to date. Those who want to stay on the bleeding edge can upgrade again, when Unity 8 arrive in 16.10 later this year.
»
Printer-friendly version

1079 reads

PDF version
More in Tux Machines
Graphics: Mesa 17.1.10, XDC2017, mGPU, CPU-Based Vulkan Implementation

Red Hat Reports Second Quarter Results for Fiscal Year 2018

"Strong demand for our technologies that enable hybrid cloud computing has contributed to accelerated revenue growth in the first half of the fiscal year. In the second quarter, we delivered total revenue growth of 21%, fueled by over 40% growth in our Application Development-related and other emerging technology revenue," stated Jim Whitehurst, President and Chief Executive Officer of Red Hat. "IT organizations continued to turn to Red Hat as a strategic technology partner to help them transform and modernize their applications and infrastructure for the hybrid cloud." "Strong execution and global demand for Red Hat technologies continued to drive financial results which exceeded expectations for the second quarter and the first half of fiscal year 2018," stated Eric Shander, Executive Vice President and Chief Financial Officer of Red Hat. "For the first half of fiscal 2018, Red Hat delivered a powerful combination of 20% total revenue growth, 41% GAAP operating income growth, 26% non-GAAP operating income growth, and 22% operating cash flow growth. Given our first half results and ongoing momentum, we are increasing our outlook for the full year."

Games: Dream Daddy, Morphite, Operator Overload and Unbalance

KTextEditorPreviewPlugin Reaches 0.1.0 and a Quick Look (Screenshots) at KDE Plasma 5.11

The KTextEditorPreviewPlugin software provides the KTextEditor Document Preview Plugin, a plugin for the editor Kate, the IDE KDevelop, or other software using the KTextEditor framework. The plugin enables a live preview of the currently edited text document in the final format. For the display it uses the KParts plugin which is currently selected as the preferred one for the MIME type of the document. If there is no matching KParts plugin, no preview is possible.

KDE released Plasma 5.11 beta version at 14 September 2017. The new star feature here is Plasma Vault, an ability to protect your folder with password. You can try it on the latest KDE neon before the Plasma finally released next October. Here is a quick look to the new things on KDE Plasma on neon dev-unstable.