From OSX to Ubuntu
Submitted by Roy Schestowitz on Wednesday 11th of January 2017 11:35:24 AM
Filed under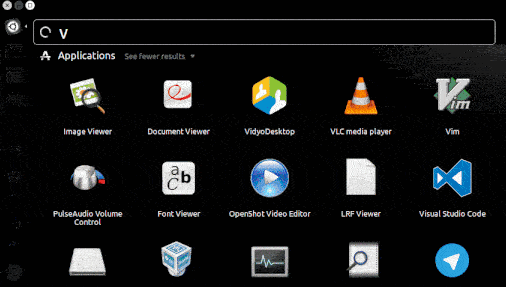 I didn't debate this for days, I installed the latest available Ubuntu right away as it was the distribution I was using before moving to OSX (I even contributed to a book on it!). I was used to Debian-based systems and knew Ubuntu was still acclaimed for its ease of use and great hardware support. I wasn't disappointed as on the X1 everything was recognized and operational right after the installation, including wifi, bluetooth and external display.
I was greeted with the Unity desktop, which was disturbing as I was a Gnome user back in the days. Up to a point I installed the latter, though in its version 3 flavor, which was also new to me.
I like Gnome3. It's simple, configurable and made me feel productive fast. Though out of bad luck or skills and time to spend investigating, a few things were not working properly: fonts were huge in some apps and normal in others, external display couldn't be configured to a different resolution and dpi ratio than my laptop's, things like that. After a few weeks, I switched back to Unity, and I'm still happily using it today as it has nicely solved all the issues I had with Gnome (which I still like a lot though).
»
Printer-friendly version

1270 reads

PDF version
More in Tux Machines
today's howtos and software leftovers

When it comes to backups, experience says it's better to be safe than sorry. Better to have much than not enough – you get the point. In this article, we will present CloudBerry Backup for Linux, a cross-platform cloud backup and disaster recovery software. As a leading solution in the industry, CloudBerry stands out for its flexibility, reliability, and its wide set of out-of-the-box features. You not only get to choose where to store your data (locally or using a cloud storage service), but also can encrypt it using AES-128 or AES-256. With the recent release of version 2.5.1, which introduces support for block-level backups, this tool stands out among its crowd of competitors more than ever. This new feature is particularly important if you need to back up large files with relatively minor changes over time. With both a GUI and a command-line interface, optional compression to save up on bandwidth and decrease storage costs, and no hidden fees for data restore, CloudBerry is hard to beat!

Following a teaser tweet two days ago, we are thrilled to announce that binb version 0.0.1 arrived on CRAN earlier this evening.

MineTime is a smart calendar application for Windows, macOS and Linux desktops. The application supports calendars from Google Calendar, Outlook.com, Microsoft Exchange, iCloud and any service using CalDAV, allowing you to organize all your calendars in one place. MineTime is an Electron application started as part of a research project by ETH Zurich students (a science, technology, engineering and mathematics university in the city of Zurich, Switzerland), in which it's investigated "how to bring new technologies, like Artificial Intelligence, into the daily routine in order to help people get more out of their time".

Solving the storage dilemma with open source storage

Business IT is facing storage growth that's exceeding even the highest estimates, and there's no sign of it slowing down anytime soon. Unstructured data in the form of audio, video, digital images and sensor data now makes up an increasingly large majority of business data and presents a new set of challenges that calls for a different approach to storage. For CIOs, storage systems that are able to provide greater flexibility and choice, as well as the capability to better identify unstructured data in order to categorise, utilise and automate the management of it throughout its lifecycle are seen as the ideal solution. One answer to solving the storage issue is software defined storage (SDS) which separates the physical storage hardware (data plane) from the data storage management logic or 'intelligence' (control plane). Needing no proprietary hardware components, SDS is the perfect cost-effective solution for enterprises as IT can use off-the-shelf, low-cost commodity hardware which is robust and flexible. Also: New Open Source Library Nyoka Aids AI, Data Science

WireGuard Picks Up A Simpler Kconfig, Zinc Crypto Performance Fix

WireGuard lead developer Jason Donenfeld sent out the fifth revision of the WireGuard and Zinc crypto library patches this week. They've been coming in frequently with a lot of changes with it looking like this "secure VPN tunnel" could reach the Linux 4.20~5.0 kernel. With the WireGuard v5 patches there are various low-level code improvements, a "saner" and simpler Kconfig build-time configuration options, a performance regression for tcrypt within the Zinc crypto code has been fixed and is now even faster than before, and there is also now a nosimd module parameter to disable the use of SIMD instructions.

Microsoft Demonstrates Why Proprietary Software Cannot be Trusted

If you're one of the people who own a stylus or touchscreen-capable Windows PC, then there's a high chance there's a file on your computer that has slowly collected sensitive data for the past months or even years. [...] The handwriting feature is there since Windows 8 which means the vulnerability has been there for many years. However, if you don't store valuable information like passwords or email on your PC, you aren't much likely to get affected much.

There is a Windows file named WaitList.dat that covertly collects your passwords and email information, with the help of Windows Search Indexer service. Digital Forensics and Incident Response (DFIR) expert Barnaby Skeggs first discovered the information about the file back in 2016 but wasn't paid much attention. However, in after a new and exclusive interview with ZDNet – it appears that the file, in fact, is reasonably dangerous.