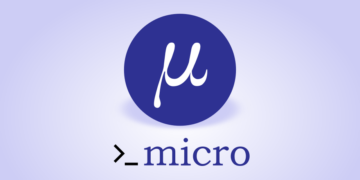 Micro command-line text editor is designed to replace Nano as the text editor for the masses. It is modern and easy to use cross-platform text editor.
A newcomer to the wonderful world of Linux will eventually need to place or alter some text in a file. In addition to, numerous programs and system settings in Linux are tucked away in text files. You can open these with your default text editor such as Gedit, Kate, Mousepad or Pluma, but the terminal is often faster, especially when you need administrator permissions.
And so we come to Vi or Vim, but they are not the easiest for new Linux users. Fortunately, most Linux distributions include a text editor called Nano as a standard utility. For most uses, Nano is easy to use and it doesn't require a significant learning curve. But you don't have to settle on Nano. There is a middle ground. Something that is a little better than Nano, but certainly not so difficult to learn as Vim, and this is the Micro text editor.
[2]