Sweet Home 3D: An open source tool to help you decide on your dream home
Submitted by Rianne Schestowitz on Friday 15th of March 2019 03:20:31 PM
Filed under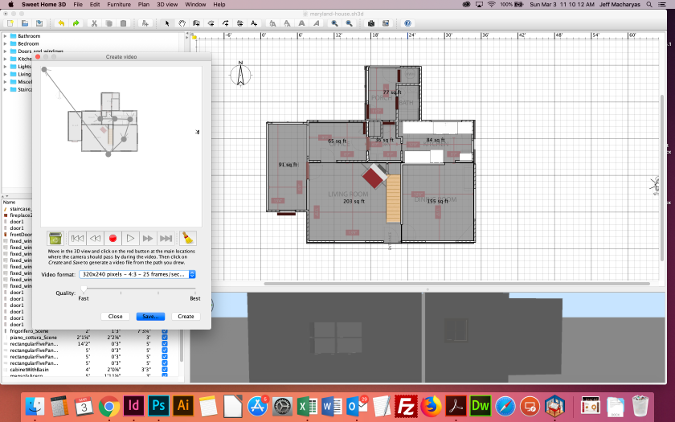 I recently accepted a new job in Virginia. Since my wife was working and watching our house in New York until it sold, it was my responsibility to go out and find a new house for us and our cat. A house that she would not see until we moved into it!
I contracted with a real estate agent and looked at a few houses, taking many pictures and writing down illegible notes. At night, I would upload the photos into a Google Drive folder, and my wife and I would review them simultaneously over the phone while I tried to remember whether the room was on the right or the left, whether it had a fan, etc.
»
Printer-friendly version

1451 reads

PDF version
More in Tux Machines
Android Leftovers

HP Linux Imaging & Printing Drivers Now Supported on Ubuntu 19.04 and Fedora 30

The HP Linux Imaging and Printing 3.19.5 software release is now available with support for a plethora of new HP printers, among which we can mention HP LaserJet Enterprise M507n, HP LaserJet Enterprise M507dn, HP LaserJet Enterprise M507x, HP LaserJet Enterprise M507dng, HP LaserJet Managed E50145dn, HP LaserJet Managed E50145x, and HP LaserJet Enterprise MFP M528dn. The HP LaserJet Enterprise MFP M528f, HP LaserJet Enterprise Flow MFP M528c, HP LaserJet Enterprise Flow MFP M528z, HP LaserJet Managed MFP E52645dn, HP LaserJet Managed Flow MFP E52645c, HP Color LaserJet Managed E75245dn, HP Color LaserJet Enterprise M751n, HP Color LaserJet Enterprise M751dn, and HP PageWide XL 3900PS MFP printers are also now supported by HPLIP.

Antergos Linux Project Ends

What started as a summertime hobby seven years ago quickly grew into an awesome Linux distribution with an even more awesome community around it. Our goal was to make Arch Linux available to a wider audience of users by providing a streamlined, user friendly experience including a safe place for users to communicate, learn, and help one another. There have been 931,439 unique downloads of Antergos since 2014 (when we began keeping track). We think it's safe to say we've accomplished our goal. Today, we are announcing the end of this project. As many of you probably noticed over the past several months, we no longer have enough free time to properly maintain Antergos. We came to this decision because we believe that continuing to neglect the project would be a huge disservice to the community. Taking this action now, while the project's code still works, provides an opportunity for interested developers to take what they find useful and start their own projects. For existing Antergos users: there is no need to worry about your installed systems as they will continue to receive updates directly from Arch. Soon, we will release an update that will remove the Antergos repos from your system along with any Antergos-specific packages that no longer serve a purpose due to the project ending. Once that is completed, any packages installed from the Antergos repo that are in the AUR will begin to receive updates from there. Also: Arch-Based Antergos Linux Distribution Calls It Quits

Sad News - Martin Schwidefsky

We are devastated by the tragic death of Martin Schwidefsky who died in an accident last Saturday. Martin was the most significant contributor to the initial s390 port of the Linux Kernel and later the maintainer of the s390 architecture backend. His technical expertise as well as his mentoring skills were outstanding. Martin was well known for his positive mindset and his willingness to help. He will be greatly missed.