Web app dev kit supports Android and Ubuntu
Submitted by Roy Schestowitz on Tuesday 5th of August 2014 01:41:16 AM
Filed under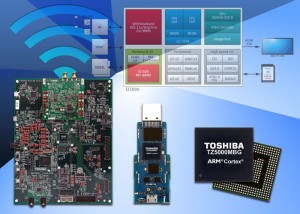 Toshiba Electronics has introduced two starter kits for early development of web applications using the Toshiba TZ5000 Application Processor Lite (ApP Lite) series.
The RBTZ5000-2MA-A1 and RBTZ5000-6MA-A1 starter kits provide drivers for internet applications using HTML5.
Both kits provide drivers for video playback using Wireless LAN and HDMI output, with the RBTZ5000-2MA-A1 on Ubuntu Linux, and the RBTZ5000-6MA-A1 on an Android 4.4 platform.
»
Printer-friendly version

1617 reads

PDF version
More in Tux Machines
New Manjaro Release

What a week we had. With this update we have removed most of our EOL tagged kernels. Please adopt to newer series of each, when still be used. PulseAudio and Gstreamer got renewed. Also most of our kernels got newer point-releases. Series v4.12 is now marked as EOL. Guillaume worked on Pamac to solve reported issues within our v6 series. The user experience should be much better now. Latest NetworkManager, Python and Haskell updates complete this update-pack. Please report back and give us feedback for given changes made to our repositories.

Linux 4.14 Is Up To Around 23.2 Million Lines Of Code

While I usually look at the Linux kernel code size following each merge window, I am a few days late this time around due to busy Xeon/EPYC benchmarking and XDC2017. Anyhow, Linux 4.14 is showing some weight gains but nothing too bad. Linux 4.14 has been another busy cycle with a lot of happenings from finally seeing Heterogeneous Memory Management merged to a lot of other new core functionality plus the always fun and exciting changes and new support happening in driver space. See our Linux 4.14 feature overview for a rundown on the new functionality.

Today in Techrights

10 Best Free Photo Editors For Linux

Linux has come a long way in terms of the applications that are available for the platform. Whatever your specific needs are, you can be sure that there are at least a few applications available for you to use. Today, we'll look at 10 free photo editors for Linux, and I must say, there are a lot of image editing tools available. This post selects just 10 of these awesome tools and talks about them briefly looking at what makes them stand out. In no particular order, let's get started.