Web app dev kit supports Android and Ubuntu
Submitted by Roy Schestowitz on Tuesday 5th of August 2014 01:41:16 AM
Filed under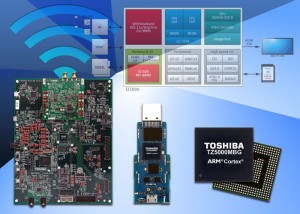 Toshiba Electronics has introduced two starter kits for early development of web applications using the Toshiba TZ5000 Application Processor Lite (ApP Lite) series.
The RBTZ5000-2MA-A1 and RBTZ5000-6MA-A1 starter kits provide drivers for internet applications using HTML5.
Both kits provide drivers for video playback using Wireless LAN and HDMI output, with the RBTZ5000-2MA-A1 on Ubuntu Linux, and the RBTZ5000-6MA-A1 on an Android 4.4 platform.
More in Tux Machines
SteamVR for Linux, Benchmarks of HITMAN on NVIDIA

Valve have put up SteamVR for Linux officially in Beta form and they are keen to stress that this is a development release. You will need to run the latest Steam Beta Client for it to work at all, so be sure to opt-in if you want to play around with it.

Valve has begun rolling out their SteamVR Linux support by announcing today a beta/developer build of their VR support for Linux. Valve's SteamVR for Linux page was updated today to reflect the build becoming public via the Steam beta channel, "This is a development release. It is intended to allow developers to start creating SteamVR content for Linux platforms. Limited hardware support is provided, and pre-release drivers are required. Linux support is currently only available in the "beta" branch, make sure you are using SteamVR[beta] before reporting issues."

Last week Feral Interactive released the much anticipated port of HITMAN for Linux. While at first it didn't look like this Linux game port would work out for our benchmarking requirements, thanks to Feral it does indeed work for another interesting Linux gaming test perspective. For our initial HITMAN Linux benchmarks are tests from 12 NVIDIA GeForce GPUs while our Radeon tests will come tomorrow.

Meet Flint OS, a Chromium OS Fork for Raspberry Pi & PCs That Runs Android Apps

Will Smith from Flint Innovations Limited is informing Softpedia today about their up and coming Linux-based operating system for PCs and Raspberry Pi devices, Flint OS, based on the open-source Chromium OS project. These days, we see more and more developers and entrepreneurs launching new operating systems based on Chromium OS, which Google uses with much success for its Chrome OS on many Chromebooks that you can purchase today. But Flint OS is somehow a bit special, not only because it provides support for both Raspberry Pi SBCs and x86 computers with either Intel or Nvidia GPUs, but because it uses Android apps. Also: KaOS 2017.02 Is Out with Linux 4.9.10, KDE Plasma 5.9.2, and X.Org Server 1.19.1

Rebellin Linux 3.5 Rolls Out as the Best GNU/Linux Distro Based on Debian Sid

The developers of the Debian-based Rebellin Linux operating system have announced today the release and general availability of version 3.5, a major build that introduces exciting new features and up-to-date components. Rebellin Linux 3.5 rolls out as the best GNU/Linux distribution based on Debian Sid, according to the developers, because it comes with out-of-the-box email support. We don't know what to say about that, but we can't help but notice that this release includes the latest GNOME 3.22.2 and MATE 1.16.1 desktop environments. "Rebellin Linux v3.5 is out! Built on the goodness of Debian and the previous Rebellin, it's the best Debian Sid based distribution you can get. Know why? Cos it comes with email support," reads today's announcement. "Download Rebellin now and end your search for the perfect Linux distro." Also: Rebellin Linux v3.5 released!

Thoughts on Slackware 14.2

All in all I'm quite happy with slackware 14.2 on my quasi-modern computer. Old school linux and openbsd types will no doubt feel at home with slack. There's no systemd to worry about. A full install takes about 9 gigs of drive space. The slackware folks have obviously put a ton of work into this new release. A word of warning to linux newbies, this isn't the easiest distro to install and is probably best suited to linux intermediates or experts.