Web app dev kit supports Android and Ubuntu
Submitted by Roy Schestowitz on Tuesday 5th of August 2014 01:41:16 AM
Filed under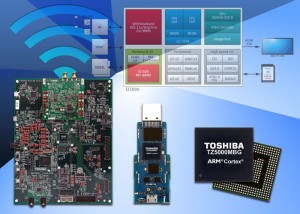 Toshiba Electronics has introduced two starter kits for early development of web applications using the Toshiba TZ5000 Application Processor Lite (ApP Lite) series.
The RBTZ5000-2MA-A1 and RBTZ5000-6MA-A1 starter kits provide drivers for internet applications using HTML5.
Both kits provide drivers for video playback using Wireless LAN and HDMI output, with the RBTZ5000-2MA-A1 on Ubuntu Linux, and the RBTZ5000-6MA-A1 on an Android 4.4 platform.
»
Printer-friendly version

1697 reads

PDF version
More in Tux Machines
Mozilla: Rust, Security, Things Gateway, Firefox and More

Fedora Workstation 28 Coming Soon

Been some time now since my last update on what is happening in Fedora Workstation and with current plans to release Fedora Workstation 28 in early May I thought this could be a good time to write something. As usual this is just a small subset of what the team has been doing and I always end up feeling a bit bad for not talking about the avalanche of general fixes and improvements the team adds to each release.

Fedora Workstation 28 is shaping up to be another compelling update for those that are fans of this bleeding-edge Red Hat sponsored Linux distribution. I've been running Fedora Workstation 28 snapshots on a few laptops and test machines here and am quite happy with how it's shaped up as another Fedora release that delivers not only the latest features, but doing so in a seemingly sane and stable manner: I haven't encountered any problems unlike some of the past notorious Fedora releases from years ago. Overall, I am quite excited for next month's Fedora 28 release and will be upgrading my main production system to it.

Android Leftovers

Configuring local storage in Linux with Stratis

Configuring local storage is something desktop Linux users do very infrequently—maybe only once, during installation. Linux storage tech moves slowly, and many storage tools used 20 years ago are still used regularly today. But some things have improved since then. Why aren't people taking advantage of these new capabilities? This article is about Stratis, a new project that aims to bring storage advances to all Linux users, from the simple laptop single SSD to a hundred-disk array. Linux has the capabilities, but its lack of an easy-to-use solution has hindered widespread adoption. Stratis's goal is to make Linux's advanced storage features accessible.